The Rot Clear For All To See At Watford Wenger To Blame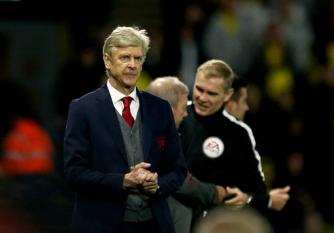 Wenger at Watford
By Merlion
October 18 2017
The article below does not represent Arsenal Times, it is the authors personal view. I agree that there is something rotten at the club. I also blame Wenger, but I believe some of the points made about tactics are valid and are part of Wenger's organised chaos. I am not too keen on the solutions, Walcott! Get him out of here, and Wilshere? Could he last ten matches in a row? Whatever the view the article is a useful basis for discussion.
The ethos at Arsenal has become utterly rotten, none more than demonstrated by the collapse of the entire team at Watford on October 12, 2017 – an indulgent manager turning a blind eye to a lack of tactical indiscipline on the pitch; and trying to shift the whole blame on to the referee.
We reached the pits at Watford, a lazy and diffident team that, with a few honourable exceptions, refused to play for the manager. There is resentment and disharmony in the dressing room and a team devoid of leadership, passion, commitment and lacking cojones or bottle. Why did it all go wrong? Every modern football manager knew that their team must be able to perform:
A high pressing game to win back the ball, and to stop swift counter-attack.
A high and compact line to transit rapidly from attack to defence when the ball is lost; and vice versa when the ball is won back.
Teams attack in triangle with wingbacks to attack the flanks.
To defend against counter-attack from long ball, defenders must press and challenge for the 1st ball, with midfielders ready to win the 2nd ball.
Watching Guardiola's Manchester City, every player pressed and retained their shape with positional awareness drilled into them, plus the technical skills and tactical awareness to pick out team-mates in a better scoring position. How many times have we seen Walcott, Ramsey, Iwobi and Alexis shooting from acute angles and not looking up to pick up team-mates who are unmarked and in the clear to score from tap-in? Contrast that to Sane, Sterling, Silva and De Bruyne, all who looked up and picked out team-mates in a better position to score.
We were successful against Watford in the 1st half, pressing Watford in their half with a dynamic and quick Welbeck chasing for every ball, forming a compact triangle with Monreal and Kolasinac on the left. Xhaka had a mobile target and passing channels created by the movement of Welbeck and Lacazette to aim at, thus keeping Watford on the back foot all the time. The Xhaka-Elneny partnership was sweeping up and closing off passing channels. Similarly, the movement of Bellerin, Iwobi and Lacazette was forming a right flank triangle to pin down Watford wingback and right-side forwards.
Tactical error by the manager
The turning point was when Wenger made a fatal error in bringing in Mesut Ozil for an injured Welbeck, with Iwobi switching over to left flank. Instantly, Bellerin was left exposed to 1-on-1 with a physical and technical Richarlison who simply ran over Bellerin like Montero (Swansea) destroying Chambers. Both Ozil and Elneny were missing and offering no protection for Bellerin; plus, Wenger remained passive and there was no reshaping of the team to counter the destruction on the right flank.
A desperate Arsenal was reduced to hanging for a point and the team lost its shape. All Arsenal players were defending in the box, desperately clearing all crosses and through balls and forgot the fundamentals. It was pointless winning the first ball and only for Watford to win all the second balls during the last 15 minutes or so.
With a disinterested Mesut Ozil, who failed to track-back and refused to battle for the ball, the entire shape and balance is gone, spreading panic throughout the team with Xhaka-Elneny losing their positional awareness, chasing shadows and unable to win the second ball out of defence. The damning video that has shown that when Watford scored the winner, Ozil, Xhaka, Elneny and Kolasinac were just static and gave up chasing down the Watford attack.
Is Xhaka such a bad player?
Xhaka was one of the smartest player in Bundesliga with a fine positional sense when playing with a man-marking M. Gladbach as No. 8. When defending in 5-3-2/3-5-2 formation, 3 no. centre-backs will mark opponent Forward-3 and the 3 no. midfielders will mark opponent Midfield-3. M. Gladbach will keep the lines compact such that whenever Xhaka spotted any gaps between defenders, he will position himself easily to close the gap and prevent forwards running into the passing channel.
In Arsenal's zonal defence system, the space behind Xhaka belongs to the Back-3 and two wingbacks. Xhaka should stand in front of Back-3 to guard against forwards or defenders making a late run in the centre. Therefore, when Cleverley slipped behind him, he expected one of the centre-backs, or Elneny behind him and in the box, to pick up Cleverly. An isolated Xhaka was left forlornly guarding an empty zone against the threat of deep-running Watford players into the box.
In hindsight, a better choice was to bring in a committed Jack Wilshere at the left flank, leaving Iwobi in place to track back a quick Richarlison. A creative and half-fit Wilshere will link up better with Lacazette and Iwobi than a non-committal Ozil, strolling on the pitch and failing to fight for the ball.
Instead of taking off Lacazette, Coquelin should replace Iwobi to help Bellerin to defend against Richarlison. The shape of the team is then a defensive 5-3-2 with Lacazette and Wilshere upfront to pick up the ball cleared out of defence, i.e. fighting for the 2nd ball to lessen pressure on the defence. Once the ball is won, the team transits rapidly to 3-5-2 with both wingbacks attacking the flanks and interchanging with midfielders when cutting inward.
Get Rid of Ozil and Alexis in January
It is time to stop the rot, this subcutaneous and make the cuts needed now. Then, the long and painful healing process can begin. It's time to start again Remove surgically the diffidence felt by Mesut Ozil who if he is not signing a contract should not play in the leagu but remain a starter in mid-week cup competitions. Alexis Sanchez should not start any league games either but remain as a supersub. Get rid of both of them in January Transfer Window. Its another fatal error of judgement by Arsene Wenger having not sold disinterested players who stopped playing for Arsenal in February 2017 (I disagree; the main cut that is needed is the manager, its time to stop putting the blame the players turned diffident by his rotten ethos. Editor).
What is the solution?
Rebuild with youngsters and strengthen the team with new buys during January Transfer Window.
Time to play Jack Wilshere as No. 10 given a free role like De Bruyne.
Like Roberto Pires, trust Reiss Nelson to play as left forward and to develop as good as Sane. We need another flair player who can get past defenders and develop a decent cross and through ball to complement Jack Wilshere in the middle.
A Front-3 of Nelson-Lacazette-Iwobi or Nelson-Lacazette-Walcott will offer pace and interchangeability to pull defence apart for attacking midfielders to drive into the gaps. Walcott and Xhaka have yet to gel as those accurate long balls are ready-make for Walcott to make his diagonal run to get behind defence or out-pace defenders in the middle. It is a matter of coaching to get Walcott to time his runs right … most of the time (Oh no not Walcott. Editor).
Xhaka as No. 8 will reprise his role as at M. Gladbach, joining the attack as a deep-lying player with his accurate long balls and defensively, have the positional awareness to cover the gaps between defenders when positioned in front of Back-3.
Coquelin is our only truly defensive midfielder whose duty must be to sweep behind Xhaka and as the ball winner or the stopper to break up plays in midfield. This is his strength and not what an indulgent Wenger letting Coquelin playing as a box-to-box No. 8. But there is hope that a young Joe Willock can develop into a defensive midfielder with better technical ability and tactical awareness than Coquelin.
We cannot play two No. 8 in Xhaka and Ramsey together. Both of them are not defensive ball-winning midfielder, battling to win the 2nd ball like Coquelin or Joe Willock.
Neither can Wilshere and Ramsey play together; a similar situation like Gerrard and Lampard in England team. Both are attacking midfielders and will leave Arsenal without a defensive midfielder cover to win balls and to break up plays in the middle.
Arsene Wenger must have the courage to surgically dismember the team, and to field a team of committed players with the bottle for a fight, go down snarling and swinging. As demonstrated against Chelski, Arsene Wenger has the ingredient for a successful team. But has he the courage to change and ditch Mesut Ozil and Alexis Sanchez immediately and focus on rebuilding without them now?
Perhaps Manchester City manager Joe Mercer apply to Arsene Wenger's Arsenal of 2017 when he said in December 1972, on the occasion of one of George Best's regular walkouts from Old Trafford, ''The foundation of success is the strengthen of the weakest players. Genius is great when it is on song. It's more than a nuisance when it goes bad because it contaminates what is around it.''