Is There a Real Wenger Legacy ?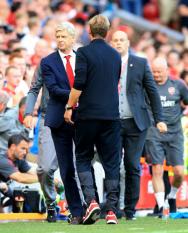 By Celine Dion
September 2 2017
The recent debacle caused, yet again, at Liverpool, followed by the shambles of the last 48 hours of the transfer has provoked many to question Wenger's legacy, and what exactly is it. Some even go on to question how good a manager was he back in 1996-2005 period. On Arsenal Times the debate was started by Goofle see below, after many more posts Celine Dion put a more balanced view, but not one that many of Arsene's loyalist fans would appreciate. Is Wenger now destroying his legacy? After all better managers than him have gone on to be forgotten. Without further comment I reproduce the posts below, and there is a link to the whole thread at the very end:
Goofle posted:
Arsenal had Henry, Vieira, Bergkamp, Campbell, Pires, Cole etc. and didn't retain a title against some fairly average Manchester United teams?

Thierry Henry only has two Premier League Titles. TWO!

Wenger hasn't "lost it", as many of his clinging fans would have you know. He never had it. He just came around at the right time and managed to pull out a few gems.

You think Alex Ferguson wouldn't have retained a title with Thierry Henry playing up top? Not to mention his truly horrendous record in Europe.
Celine Dion replied:
I dont think its reasonable to dismiss what Wenger achieved pre-2008.

You have to look at what he did with the team he inherited within his first year. Wright, Merson, Bergkamp, platt, Dixon, Winterburn were playing very very decent football within about 4 months of him being there, and they werent, prior to that. He didnt add a huge amount of players to start with, but they just started pinging the ball about like they were reading from a different book to the rest of the league.

Although I think people crediting him with the discovery of modern sports science, making people eat broccoli etc, is a bit over the top, as sport was coming round this way of thinking anyway, I still think his achievements pre-2005 were outstanding.

Ive always though Wenger is very good at some things and very bad at others. But in his first 8 years the things he was good at, largely getting players super fit, putting them into his system and then letting them express themselves, was a kind of perfect storm.

Firstly he only had Man United to worry about. Some years they were better than him and some years the weren't. Secondly france produced some of the best footballers on the planet during a 10 year period at that time, hence their world cup and euro wins, and it was fairly easy for him as a Frenchman with a very decent reputation and a club able to spend decent money on wages, to convince people to come and play for him. Plus early on he had George Grahams defence, although he did manage to construct his own defence for 2004 with Ralph Lauren Ashley Cole and Toure and he has to take credit for that because it wasn't a defence anyone saw him coming up with. I tend not to get too excited about the 'invincible' achievement itself because Grahams 1991 team came within 1 goal of achieving the same and if Van Nistelrooy hadn't missed a penalty it wouldnt have happened. Likewise, they drew that many matches that if Rio Ferdinand hadn't been suspended for the entire season they may not even have won the title.

However, between 1997 and 2004 he got a football team playing some of the best most brutally attacking football on the planet and won trophies, yes, he didnt always retain them but he was up against THE best manager in the history of football, so why would he have done.

He also did a very decent job up until 2008 actually. I think 2008 was when he started to lose it. He put together a very capable team, the Hleb Rosicky Flamini Adebayor Fabregas attacking line up was murdering teams, particularly away from home, but this is where his little blind spots started to creep in. They had been there previously, when Seaman stayed too long for example, or he persisted with Pascal Cyan when he simply should not have been at the club. But this time it got silly. When we played Liverpool in the league in 2008 between the two CL games he rested half the team and only drew against them, with players like Bendtner and Traore playing. He only lost the league by 3 points, so this looks like a frankly ridiculous thing to do in hindsight. I think this is where he started to get delusions of invincibility and to really believe his own hype. Its got worse as the time has gone on and Wenger post 2012 is a total waste of space.

Theres no reason why this should be surprising. Kenny Dalglish had Liverpool playing some of the best football England had ever seen in 1986 and 1988 but nobody rated him much as a manager 20 years after that. Brian Clough was the best manager in the world in 1979, what he achieved with a comparatively provincial team like Nottingham Forest is probably on a level with what Wenger did with the invincible. But he eventually took Forest down by refusing to adapt to modern football. They have never recovered from it. The game changes, tactics change, the market changes. Wenger is older, more obstinate. I am afraid he has allowed himself to become a tool of big business.

But he certainly had something between 1997-2006, if you have started to forget, load up some old videos.
More discussion here, why not join in.