Iwobi MotM? Player Ratings v Chelsea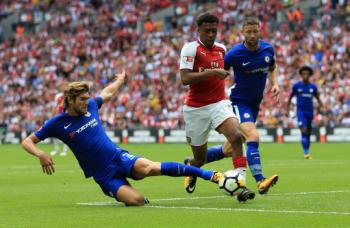 By Matt Sadler
August 6 2017
I expected Arsenal to get battered to be honest, especially after seeing the starting lineup, but we just about edged the first half. In true Arsenal fashion, however, we conceded right at the start of the second half with us all still half-asleep, but we battled back and equalised after Chelsea were reduced to 10 men. With the score 1-1 at full time, ABBA-style penalties loomed, but Walcott, Monreal, Oxlade-Chamberlain and Giroud took four class penalties, while Courtois and Morata missed for Chelsea, giving us a 4-1 shootout victory.
Main thought from me is about Oxlade-Chamberlain at left wing back. His game is largely based on his right footed dribbling, but on the left he kept having to cut back inside. It was infuriating and rendered him pretty ineffective.

Also saw encouraging signs from Lacazette and Kolasinac today. Lacazette and Welbeck's linking up is promising as well. Don't really rate Elneny but thought he did well playing box-to-box. Iwobi was quality, so underrated. I'd be livid if we sold Giroud.
RATINGS
Cech - 7. Two iffy moments but prevented a sure goal in the first half. Couldn't do anything about the goal.

Holding - 5. Still rusty without a proper preseason. Lost Moses for the goal. Will get better.
Mertesacker - 6. Was playing well till his injury.
Monreal - 7. Read the danger well, at LCB and CB.

Bellerin - 6. Okay but needs to offer more going forward, especially if he is pushing Oxlade-Chamberlain on the left.
Xhaka - 7. Grew into the game. Nearly scored a screamer.
Elneny - 7. Good first half. Unreal engine. Okay second half but would like to see more going forward. Shooting was sh*t.
Oxlade-Chamberlain - 5. Not his fault.

Iwobi - 8. Creative, lively and carried the ball well, just needs to nail that end product.
Lacazette - 7. First time I've been impressed by him so far. Took good touches and was unlucky not to score.
Welbeck - 7. Quality first half, unreal work rate. Not as effective in the second half.

Subs:

Kolasinac - 7. Impressed me. Absolute unit and he got our equaliser.
Giroud - 5. Didn't get into the game.
Walcott - 6. Lively.
Nelson - N/A. Not on long.
More discussion here