The Demise of the Arsenal Brit Pack Failure of a Policy?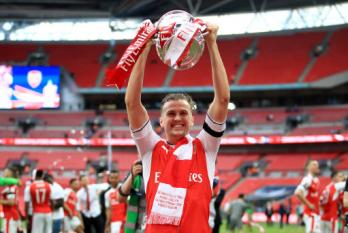 Holding Op
By Matt Sadler
July 24 2017
In December 2012, Arsenal announced a mass of contract extensions as five British players, unofficially known as the "Brit Pack", signed long term deals. There was Jack Wilshere, a versatile and talented midfielder who was billed as the "leader of this group" by Arsene Wenger, box-to-box Welshman Aaron Ramsey, explosive winger Alex Oxlade-Chamberlain, steady left back Kieran Gibbs, and boyhood Arsenal fan and right back Carl Jenkinson.
It was an obvious marketing ploy, and a clear attempt to manufacture our own "Class of 92", but it was nice. I won't expect too many foreign and/ or "modern" fans to appreciate or even care, but for some of us, having the core of the squad made up of British youngsters and Arsenal supporters gives us a great sense of pride (Personally I just want a winning team, but another Charlie George wouldn't go amiss. Editor) .
In January 2013, lightning fast forward Theo Walcott, the original Brit Pack member, "signed da ting" to reaffirm his position within the group, and we have since added utility man Calum Chambers, powerful forward/ wide player Danny Welbeck, and cultured centre back Rob Holding. Youth team players like skilful forward Chuba Akpom, centre back/ centre midfielder Isaac Hayden and cultured playmaker Alex Iwobi also broke through, with versatile midfielder/ winger/ full back Ainsley Maitland-Niles set to join them. Since the Brit Pack's creation, however, things haven't turned out as Wenger would've hoped, and the bulk of the Brit Pack find themselves on the verge of an Arsenal exit.
Despite emerging as a top talent in world football as a teenager, with a certain performance against Barcelona being a real standout moment, injuries have heavily disrupted Jack Wilshere's career so far and eventually saw him slip down the pecking order. He slipped down the pecking order so far, in fact, that he was allowed to spend last season on loan to Bournemouth. Coming into the last year of his contract, Wilshere's constant injury problems have essentially made his footballing ability largely irrelevant, as he can't be relied on to stay fit. He is being linked with moves away to the likes of Sampdoria, West Ham, Newcastle and Swansea, with those links to a big money Man City move seeming a long time ago now.
Aaron Ramsey is the one Brit Pack member who we can say has performed at a world class level, but even then it was only briefly. During the 2013-14 season, Ramsey weighed in with 16 goals from midfield, ended the season with the winner in an FA Cup final, and followed this up with another 10 goals the following season. Since then though, he has struggled with injury, inconsistency and a lack of a suitable midfield partner following Mikel Arteta's physical decline and departure. He has showed that 2013-14 form on occasion, but nowhere near regularly enough. He finished last season on a high with another FA Cup final winner, and he is one of the few Brit Pack members still close to the first team, and may well have found the much-needed Arteta replacement in Granit Xhaka.
After a fine finish to his debut season, Alex Oxlade-Chamberlain emerged as one of our most exciting talents, and a personal favourite of mine, but a combination of injuries, inconsistent performances, mistakes and a lack of end product saw him become a source of frustration for many. Last season, however, was a step in the right direction, as he was one of our better performers and his end product improved.
Apparently he wants to play centrally, though I still feel given his skillset he is better suited out wide, either on the wing or as a wing back. Another coming into the last year of this contract, I'd rather not lose the Ox but I feel we would get over it, as the consistency in his performances still just isn't there. Liverpool and Chelsea have been linked to the Ox.
Kieran Gibbs ended the 2011-12 season with a top-four saving block against West Brom, having seen off the challenge of new "competitor" Andre Santos. He could be guilty of occasional positional lapses (although, if a full back as good as Bacary Sagna could be as well, a lot of this must go down to Wenger's airy-fairy approach, but that's another argument!), but, when fit, he was generally a steady, dependable guy, though injuries were a constant problem. He was then a part of our much-improved backline at the start of the 2012-13 season, but he suffered an injury in January 2013 (a recurring theme with these lads), and forced us into the transfer market to sign Nacho Monreal, which was the beginning of the end for Gibbs.
Monreal took time to adapt to English football as Gibbs remained first choice when fit, but after a stint as a make-shift centre back at the start of the 2014-15 season, Monreal made the left back spot his own and has not looked back since. Gibbs has been a model professional throughout, but he has failed to win his place back and enters into the last year of his contract being linked with moves to the likes of West Brom and Watford.
Boyhood Arsenal fan Carl Jenkinson looked like a deer caught in the headlights as he was plucked from League One Charlton and thrown into our starting eleven at the start of the 2011-12 season. At the start of 2012-13, however, he put in some good performances in Bacary Sagna's absence and even got himself in the England squad. He followed this up with some good performances at the start of 2013-14 as well. However, he failed to make the right back spot his own and left to spend the 2014-15 season on loan at West Ham.
He had a very good season at West Ham, and was invited back to spend the following season on loan there as well, although this second spell was cut short due to injury. He was bought back to the club with the plan being for him to re-join the Arsenal squad once he'd returned to fitness, but once he did return he looked well out of his depth and dropped out of favour again. Another coming into the last year of his contract, he almost joined Crystal Palace in January.
Theo Walcott is one of the more frustrating Brit Pack members, capable of big moments but capable of going missing. He finished the 2012-13 season with a career high 21 goals in all competitions, statistically rivaling Tottenham's Gareth Bale, but missed much of 2014 with an ACL injury.
He returned in November 2014 and slowly rebuilt his fitness, before finishing the 2014-15 season on a high as he started in, and scored the opener in, the FA Cup final against Aston Villa. That summer he signed another new contract, becoming one of our highest earners in the process, but a failed experiment with him as a centre forward saw him finishing the season on the bench.
He returned strongly at the start of last season, showing considerable improvement in his off the ball work, but finished the season on the bench once again, despite 19 goals in all competitions. It is tough to see where this high earner can fit into our new formation, with Everton and West Ham being linked, and a significant portion of the fans appearing to have lost patience again.
Versatile youngster Calum Chambers made a good start to life at Arsenal after signing from Southampton, being named our Player of the Month for August 2014 and getting into the England squad, but he struggled towards the end of that year and dropped out of favour. A lack of a defined role in the squad saw him spend much of the following season on the periphery, so he went out on loan last season to Premier League side Middlesbrough. He was a top performer for Middlesbrough, despite the club's relegation. His long term future now is unclear, however, with him being linked with a move to Crystal Palace and a possible return to Southampton, though they could just be loan moves as I feel a permanent departure would be premature at this stage.
Since signing for the club, Danny Welbeck has had some great moments, but he was spent the majority of his time here out injured. He still remains a useful and likeable squad player (and my personal favourite). Isaac Hayden looked set to break through during the 2014-15 season, but injuries wrecked his chance and he has since departed permanently. Chuba Akpom's excellent goal record at youth level has failed to translate at senior level so far, and he looks set to leave as well. After a strong finished to 2015-16, Alex Iwobi started last season strongly before tailing off, but still looks a very exciting prospect for the future, and is one of our more interesting youngsters (yes, he has decided to play for Nigeria, but he is still a home grown/ club trained youngster).
Rob Holding made a promising start to life at Arsenal as he broke into the first team towards the end of last season. He plays with the calm head (particularly in the FA Cup Final, where he had an almost faultless performance) of a seasoned veteran and he genuinely looks like he could play at centre half for us for years to come. Ainsley Maitland-Niles has had a bit of a pasting so far in pre-season, but in his defence he has been playing out of position at centre back. He still looks like he could be a useful option in one of his actual positions, with his official first team promotion all but confirmed.
We approach the start of the 2017-18 season with Wilshere, Oxlade-Chamberlain, Gibbs and Jenkinson all soon to be out of contract, and Walcott, Chambers and Akpom all apparently out of favour. At this point, for varying reasons, it is incredibly hard to predict what the future will hold for them. Some of them may well stay and turn things around, but I suspect the majority will go, spelling the end for Brit Pack 1.0. Injuries and inconsistency have been a recurring theme with this group. It was a nice idea, but as with any project based on a player's potential and development, it was always going to be a bit of a gamble.
Ramsey, Welbeck, Iwobi and Holding remain in-and-around our first team, with Maitland-Niles set to join them, heading up Brit Pack 2.0. An exciting talent like Reiss Nelson will surely make the break through, and who knows, maybe Cohen Bramall's meteoric rise to the top will see him join them as well? Yeah, I'm not too sure about that last one either. But whatever happens it cannot be denied that Brit Pack 1.0 has not been a success. That must bring the policy and how it has been implemented into doubt, if not at a national level, the certainly at the local level in regards to Arsenal. Questions need to be asked and answered.