Well That Was Coming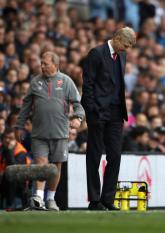 By Matty Sadler
April 30 2017
No surprises at all there. I know Wenger is probably that blinkered and delusional that he thought his "masterstroke" going three at the back turned our season around and helped us turn a corner, but that really has been on the cards. We haven't looked convincing at all since changing formation.
Against Middlesbrough we looked like conceding every time they put a ball into our box (luckily they're sh*te), against City, I'll give us credit for the hard work and grit, but they would've won comfortably if they'd taken their chances, and against Leicester we got massively lucky with the help of a big deflection. The results glossed over some pretty uninspiring performances, but something embarrassing was coming.

Today we should've been 2-0 down at half time, but Spurs missed two open goals, and a number of good saves from Cech later on kept the scoreline "respectable". As is the case with Wenger's Arsenal these days, we're just far too open and easy to capitulate, and rely too much on luck and opponents failing to take their chances. There is absolutely no conviction in this team.

Giroud is reliant on the service of others, and in the first half I think all of his touches were in our own half. I like Giroud as a footballer and I'm not knocking him personally, but he just doesn't possess the tools to be successful in that formation. It requires a more mobile forward like Welbeck or Alexis. On the subject of Alexis, he was appalling and his attitude stinks. To say Ozil's influence was minimal would be an understatement. I didn't understand the thinking behind playing Monreal AND Gibbs, when Holding, who actually has benefited from this new formation, sat on the bench. Saying that, I felt Gabriel had benefited from this new formation as well, but he was horrific in the second half.

We're going to finish below Spurs, and could finish outside of the top four as well. I wish I could say that that'd be a much-needed wake up call to the board, but I doubt it will. Spurs have a young, modern, progressive manager and a young team of hungry, ambitious, talented footballers. In fact, with their fantastic manager and all of their physical power and belief, Spurs now more resemble the Arsenal team I fell for as a child than we do! 2-0 doesn't show just how far off them we are now.
That was a horrible experience. An awful way to start the Bank Holiday weekend. Thanks Arsenal. I hope you're all going to be drinking tonight as well!