Time For The Clowns Life at Divided Arsenal Match Report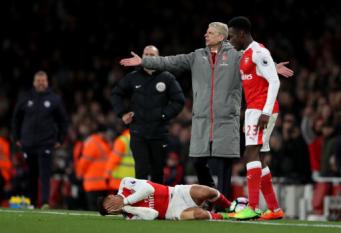 Clown
By Boris Mellor
April 27 2017
I'll start at the very end a very good place to start. There was five minutes left to play and Arsenal fans were drifting home at 0-0, Leicester fans jeered at the departing fans. That's what's great about football you can never tell what is about to happen next.
Meanwhile some young Arsenal Turks (no they were not Turkish) were jeering an elderly fan who was making his way to the back exit. I've got to get back to Brighton, he protested, besides Ive been watching this fec*ing rubbish for more years than I care to remember, then hastily apologised to the youngest who was probably about eight years old, for his swearing.
He too was unable to see the future, as he went by I jokingly said to him, well that fu*cking told them. He laughed and continued his exit.
The exact moment he exited the stand Huth did something that no Arsenal player could do all night, and that was put the ball in the Leicester net. Arsenal fans celebrated, the cheeky youngsters turned and jeered at the elderly spectator shaped hole in the dim freezing light of an extremely cold April evening. It was as if somehow their loyalty had brought on the wondrous change of fortune, that they had known Huth would score.
But was there so much to celebrate? Yes three points is always worth celebrating, and a wins a win. But this was a night where none of the strikers could score, not Sanchez, not Walcott, not Giroud, not Welbeck. It was blanks all evening.
There were thousands of empty seats at 7:45, but most of the cheaper ones were 90% full. Fans were supportive of the team, but the only fans singing Wenger should stay were foxes, but the Gunners pointed out he had won more than their club in all it's history. The first half was excruciatingly boring. Even Vardy seemed uninterested, and ignored the chances he had to break. Leicester were mainly keen to keep 9 men behind the ball. In spite of the score being 0-0 at half time fans did not boo the team back to the dressing room and up to the 86th minute it was more of the same until Huth kindly scored, so no great Arsenal goal, still no entertainment.
Enter the Circus and clowns.
Now a long time ago, a manager whose name now escapes me, was being pressed on the fact that his team was not entertaining. His famous reply was on the lines of if you want to see clowns go the circus.
Well suddenly circus broke out; Huth started strong arming Arsenal players, more Circus Strong Man than clown, unless you count his own goal. With a few minutes left Sanchez decided to defend Arsenal with his life by trying to prevent a Leicester throw in, this resulted in the ball being thrown at his shoulder; he proceeded to roll about the floor clutching his face. The upshot of his clowning was that Leicester got a free kick in a very dangerous position. Fortunately they wasted it.
In summation the football was poor, and the clowns weren't very funny either.
Arsenal 1 (Huth og) Leicester 0