How anyone can think Wenger isn't finished? Player Ratings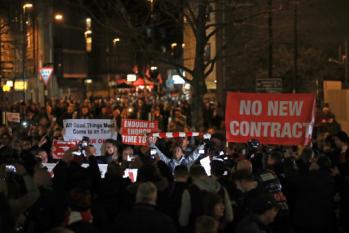 By Matty Sadler
March 7 2017
Right, first things first; that tie was over long before kick off tonight, obviously. At no point did I ever think we were going to produce some sort of miracle and turn it around, so don't get it twisted and start thinking that. However, for about 50 minutes tonight I actually enjoyed watching us, and I haven't been able to say that much recently.
Obviously it is frustrating because its the sort of thing we tend to do when the pressure is off, but for about 50 minutes we were the better team. We were better than we usually are defensively against big sides, our midfield three was working well and Bayern didn't really have an answer for Walcott's pace in attack. Alexis and Giroud weren't great but hey, a team that consistently lets me down and disappoints me actually did pretty well for 50 minutes.

Then on 50 minutes, in a typically implosive Arsenal fashion, Koscielny conceded a penalty and was given a yellow card, which was quickly upped to a red card, and it all went to pot. Bayern scored the penalty and it was a cake walk for them after that. Our response following this really worries me. For a start, we chose to drop Xhaka in at centre back instead of putting Gabriel on (what does that say about Gabriel!?). After that, our f*cking imbecilic insistence with passing no matter what and trying to play "in our way" made it easy for Bayern and contributed to at least three of Bayern's goals.

We were never going to win, but this at least looked like it might be a bit of a confidence boost as we faced the remainder of the season, but alas, like everything else with Arsenal at the moment, it all went t*ts up. We're at rock bottom at the moment and it'll take a miracle for us to finish in the top four. I don't see how anyone can think Wenger isn't finished. He looks more and more done with each passing week.
Ospina - 5. One or two saves but was partly responsible for the second Bayern goal.

Bellerin - 5. Needs to use the football better if he is ever going to be classed as a top full back.
Mustafi - 5. Played well until the sending off, and was overran after that.
Koscielny - 4. Conceded a clumsy penalty and was sent off.
Monreal - 5. Deserves credit, I guess, for keeping Robben pretty (comparatively) quiet up until the sending off.

Oxlade-Chamberlain - 6. Very good first half but, like the rest, it went balls up after the sending off.
Xhaka - 5. Was recycling possession expertly as our anchor, but was forced to drop in at centre back after the sending off and, as you'd expect, got found out. A shame.
Ramsey - 6. Did well on his comeback from injury before being substituted.

Walcott - 6. Unplayable in the first half. Scored the opener and probably could've had a couple more. Obviously was silenced after we went down to 10 men.
Giroud - 4. Missed three good opportunities, which were about his only impact on the game.
Alexis - 4. Was quiet while we were playing well. Partly responsible for the second Bayern goal.

Subs:

Coquelin, Ozil and Lucas - N/A. None of them were able to do anything.

Difficult ratings to do as we were excellent for 50 minutes and everything after that was a horror show...
More discussion here