What's wrong with this team? Player Ratings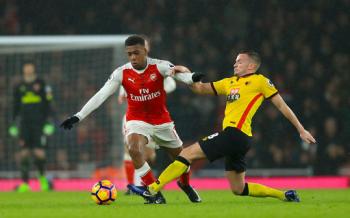 By Matty Sadler
January 31 2017
First half embarrassing. Yet again we were slow starting and had no answer for an energetic, hard-working team who pressed us high. We conceded too awful goals, were always open at the back, we were abject in possession and offered nothing at all in an attacking sense.
The second half we started great, dominating possession, cutting Watford apart and creating chances. We got back into the game after a fine finish from Iwobi, but inexplicably bought Lucas on and moved Iwobi centrally, which basically killed the game. We had a couple of chances later on but we were so exposed centrally that we didn't play with anything like the same freedom.

Liverpool and Chelsea drew today and against a really "nothing-y" Watford side, we had a great chance to make ground up on Chelsea and pull away from one of our rivals. Instead, as we always do, we completely choked and lost. Even drawing 2-2 wouldn't have been much good really.


Whats wrong with this team?
A few thoughts from me, but as usual it is nothing we don't already know.

1) The first is in relation to our slow starts. If you have a slow start to a game, fair enough, not great but it does happens sometime in football. If you keep making slow starts, week after week, it becomes obvious that there is something wrong with how we're preparing for and approaching games. These slow starts are far too common an occurrence. Something needs to be done.

2) The second is about Giroud upfront. Giroud isn't a "sh*t" footballer but he clearly has his good and bad points. If you want to play Giroud, fair enough, but he is a player who is reliant on service from other players. He needs crosses into the box and balls into him, so play wingers who'll feed him. Instead, we played Alexis on the left, who just wants to cut inside all the time, and Iwobi on the right, who wants to play on the left/ drift infield to play make. If you're going to play Giroud upfront, play to the bloke's strengths or it is like you're playing with 10 men, which is what happened tonight.

3) The third is Coquelin vs. the high press. We're bad enough against teams who press us high and force us into mistakes, but when you play Coquelin against a team like this, and he doesn't have a "zippy" passer like a Cazorla or a Xhaka next to him, he gets exposed and the problem is amplified. Like Giroud, Coquelin is a good player but he has his faults. Help him by playing to his strengths, not exposing his weaknesses. Unfortunately we did the latter today and the game really passed him. When Ramsey went off injured, we could've put a better "passer", like Iwobi or Ozil, for example, alongside Coquelin and helped him out.

4) Crosses into the box. This sort of relates to my second point but is also a general thing in the second half, and games in general. We get into crossing positions and then do nothing. We don't score enough goals as a team, which leads me to believe that maybe we should try doing something when we get into crossing positions? Too many times we get into a good position and then work it back to where we came from.

5) My final point relates to that moronic third substitution. We made a great start to the second half, dominating possession and the territorial advantage, and Iwobi on the left was our star man without doubt. Inexplicably we threw on Lucas for a CM, dropped Ozil deep and moved Iwobi centrally. It made no sense as our best play, including the goal, was coming from Iwobi. It was a completely stupid substitution that kneecapped our attack and left us exposed on the break.

TL;DR, there is a lot wrong with this team.
Cech - 6. Could do little about Watford's two goals in truth, but made a couple of good saves at the end of the first half. Spectator in the second half.

Gabriel - 5. Weaknesses completely exposed in the first half. Struggled against Niang, poor in possession and looked lost going forward. Sh*t throw in led to Watford's second as well. Bettter second half but clearly not good enough to play right back for a *cough* "title challenging side".
Mustafi - 6. Not great on the second goal. Only one who looked bothered in the first half. Decent second half.
Koscielny - 6. Alright first half, better second.
Monreal - 6. Sluggish, substandard first half typified by a poor dive. Much, much better in the first half as, yet again, he appeared to be our main outlet.

Coquelin - 5. Invisible in the first half, better second half before going off. Made one excellent tackle after falling over and losing possession.
Ramsey - 0. Shocking showing. Culpable for the two goals before limping off injured after 18 minutes. Just not happened for him this season, expect him to go in the summer.

Iwobi - 7. Didn't get into the first half much, but was outstanding in the second half before we moved him centrally. Great finish unfortunately meant nothing.
Ozil - 6. Didn't get into the first half at all and delivery was poor. Did a good job playing deeper in the second half.
Alexis - 6. Saw the best and worst of Alexis today, blind-alley runs, loose touches and aimless passes, but we also saw some good, like his excellent assist for Iwobi.

Giroud - 1. Absolutely no impact on the first half, and was substituted at half time.

Subs:

Oxlade-Chamberlain - 6. No impact on the first half. Better in the second half but he will be disappointed. Looked like he may have been struggling with injury.
Walcott - 4. Missed a very good chance when we came on. Didn't really impact the game otherwise until right at the very end.
Lucas - 4. Couple of decent efforts on goal but his substitution really killed the game.

Discussion here