Any chance we can get Wenger ban extended? Player Ratings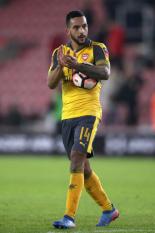 By Matty Sadler
January 28 2017
I was worried when I saw we'd drawn Southampton and I was even more worried when I saw our starting XI, but I calmed down immensely once I'd seen Southampton's starting XI.
The first half was an absolute joy to watch as we were organised, passed and moved well and attacked with purpose. We went in at half time 3-0 up after three really well taken goals. The start of the second half wasn't quite so free flowing but again, we were organised and efficient, and added gloss to the win later on with two more goals.

A convincing victory which included minutes for Bellerin, Gibbs, Oxlade-Chamberlain, Welbeck and Walcott after injury lay-offs, much-needed minutes for first teamers Holding, Reine-Adelaide and Lucas, and minutes for youngster Maitland-Niles. I enjoyed watching this one, and I couldn't say that the last time we played Southampton.

Any chance we can get Wenger's touchline ban extended?
Ospina – 7. One dodgy moment in the first half and two iffy moments with Mustafi in the second half, but otherwise did well. Good save off Long in the first half and claimed a number of crosses well.

Bellerin – 7. Better first half than second but a decent performance.
Mustafi – 6. Mostly solid but had some dodgy moments in the second half, including two where a lack of communication with Ospina was evident. Should've scored in the first half.
Holding – 7. Solid, composed and good on the ball.
Gibbs – 7. Two dodgy moments in the first half, which I'll put down to rust after his injury lay-off, but had a good second half.

Oxlade-Chamberlain – 8. Ran the midfield in the first half. Decent second half but quieter compared to the first. Played some unreal passes. Still hate him on set pieces, however.
Maitland-Niles – 7. Disciplined performance as the "base" of our midfield. Used the ball well and was efficient defensively as he covered for his back four when needed. First team promotion can't be far off?
Reine-Adelaide – 7. Took players on but didn't overdo it, passed and moved and maintained his discipline. Best first team appearance to date.

Welbeck – 8. Well and truly marked his comeback from injury with two excellent finishes and an assist. Looked "on it" right from the off. Lively and hard-working.
Lucas – 7. Didn't get into the game massively aside from involvement in Welbeck and Walcott's first goals. Missed a good chance late on.
Walcott – 8. Spent most of the game on the periphery but scored a well taken hat trick. We've missed him.

Subs:

Alexis – 7. Two assists. Lively.
Iwobi – 5. Didn't really get into the game.