Arsenal Keep Title Hopes Alive? Player Ratings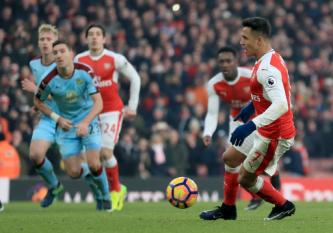 By Matty Sadler
January 22 2017
Arsenal passed and controlled the midfield well in the first half but were let down by our "front three". We had a bloke upfront who wants crosses into the box and Wenger played two "wingers" who just want to come inside all the time.

Giroud didn't really get into the game, Iwobi struggled to make an impact and Alexis had left his shooting boots at home. The second half started much the same, with us dominating, but we took the lead after Mustafi headed home an Ozil corner.

We should've been comfortable thereafter but Xhaka was lost his head and was sent off. As we approached the finish line, into injury time, substitute Franny Coquelin had a personal nightmare as he tried to control the ball in the penalty area when he should've just put his foot through it, and then he tried to boot it and kicked his man. Sloppy. Burnley equalised and it looked like the title race was over, but even deeper into injury time, we won a penalty ourselves, which Alexis scored emphatically.

A dramatic finish to the game, but had we shown a bit of ruthlessness in the first half when we were dominating, we could've been 3-0 or 4-0 up. Had we had a balanced starting line-up, we could've been 3-0 or 4-0 up. We need to be better.

Xhaka's stupidity means he misses four games, and we will certainly miss him against Chelsea (Well at least we will miss having to play with onlt ten men at some stage).
Cech – 7. Came out bravely to prevent Gray scoring in the first half. Decent save off a Defour free kick in the second half. Got a hand to the penalty but couldn't keep it out.

Gabriel – 7. Untroubled defensively and always made himself available for the pass.
Mustafi – 7. Had difficulty with Gray twice in the first half, but did well otherwise. Passing was good, bar one. Scored the first with a well-directed header.
Koscielny – 7. Had difficulty with Gray once or twice in the second half, but was great otherwise. Good tackle on Gray in the first half and an excellent block towards the end.
Monreal – 7. Finding consistency after a poor start to the season. Untroubled defensively but always available on the overlap.

Xhaka – 4. Thought he was having a good game, controlling the midfield, but he gave away possession and lost his head. With us 1-0 up and comfortable there was no reason for him to go flying in. Idiot.
Ramsey – 7. He was having a great game, but was reduced to pressing Burnley after Xhaka's sending off. Rabona cross was lovely.

Iwobi – 6. Didn't really get going in the first half, but was miles better in the second half before being sacrificed for Coquelin.
Ozil – 7. Good passing, good movement, ran his socks off, and held the ball well after Xhaka's sending off. Assisted Mustafi's goal. Much better from him.
Alexis – 7. Lively and a constant menace for the Burnley defence, but left his shooting boots at home. Made up for it at the end with a beautiful penalty.

Giroud – 4. Can't think of anything positive to say. Didn't really get involved and never troubled the Burnley defence.

Subs:

Coquelin – 3. Sloppy to concede the penalty.
Welbeck – N/A. Not on long.
Bellerin – N/A. Not on long.
More discussion here