Deflected Glory Iwobi MotM? Player Ratings v Swans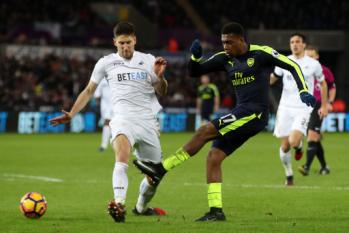 By Matty Sadler
January 14 2017
If only we started every game like we started that second half...
We went in at half time 1-0 up after a dire first half, but we improved immensely in the second half, dominated and went 3-0 up after two very kind deflections, before Alexis wrapped things up to make it 4-0.

A routine win against an awful Swansea side. Our first ever double over Swansea in the Premier League.

I'm very disappointed with Alexis though. Yes, I get it, he loves football and wants to play every minute, week in, week out, but that was a pathetic reaction to being substituted. I'm embarrassed for him. He needs to get real.
Cech - 6. Made a couple of comfortable saves in both halves.

Gabriel - 7. Another decent performance at right back.
Mustafi - 7. Solid defensively and did well playing out from the back.
Koscielny - 7. Solid bar one really awful back header in the first half.
Monreal - 7. Took a kicking in the first half but a good performance. Good going forward.

Xhaka - 7. Slow start but bossed the midfield afterwards.
Ramsey - 7. Again, a slow start, but produced a very good box-to-box performance in the end, particularly in the second half. Involved in three of the goals.

Iwobi - 8. Quiet first half, but superb in the second half. Involved in the first and fourth goals, and had a shot and a cross deflected in for the second and third goals.
Ozil - 7. Quiet first half, but did well in the build up to the first goal. More involved in the second half.
Alexis - 7. Not great in the first half but played a part in the first goal. Much improved in the second half where he looked livelier, though some of his decision making left a lot to be desired. Scored before throwing a wobbly when he was substituted.

Giroud - 7. Scored the opener and won most of his headers.

Subs:

Oxlade-Chamberlain - 6. Some good runs.
Lucas - 5. Didn't get into the game.
Welbeck - 6. Decent on the ball.