Not Good Enough But Through. Player Ratings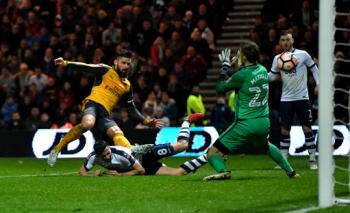 Kiss of the Scorpion
By Matty Sadler
January 7 2017
Downright unacceptable first half where we looked clueless defensively, sloppy in possession, slow in attack and completely unmotivated and unready to play a football game. Preston knew if they didn't give us time on the ball or space off it they'd stand a chance.
It was particularly worrying as there didn't seem to be any leadership or guidance coming from everywhere. No attempt at proper game management. We were quickly 1-0 down, all over the place defensively, and needed to steady the ship for a bit, but we continued defending like idiots and throwing people forward. It was by some kind of miracle that we weren't 2-0 or 3-0 down.

Typically we responded right at the start of the second half as Ramsey equalised. We improved immensely but still weren't great, as our "attacking midfield three" really didn't turn up and we struggled to create. However, a Ramsey long ball was headed on by Giroud to the unimpressive Lucas, but Lucas got it right in the end as he intelligently backheeled it for Giroud to score the winner.

Nowhere near good enough but we're through to the next round.
Ospina - 6. Only criticism is when he came running off his line like a tw*t in the first half and nearly got lobbed. Otherwise he was okay, but he didn't have loads to do.

Maitland-Niles - 4. Whipped in a few good crosses but struggled defensively in his second senior start at right back, though he didn't get much help.
Mustafi - 4. First half was littered with mistakes, and made one potentially match-saving block. Second half was a big improvement.
Gabriel - 3. Played everyone onside for the Preston goal, and was very lucky he didn't cost us again a couple of times in the first half. I didn't notice him much in the second half, which I'll take as a positive thing.
Monreal - 6. Lost his man for the Preston goal, but made an excellent clearance afterwards when Ospina was lobbed. Was okay otherwise but crossing wasn't great.

Xhaka - 4. Looked off the pace in the first half but was much better in the second half.
Ramsey - 6. Embarrassing attempt at tackling McGeady for the Preston goal. Missed two good chances in the first half and looked a player bereft of confidence, but equalised right at the start of the second half and grew in stature after that. Great ball in for the late winner.

Lucas - 4. Embarrassing attempt at tackling McGeady for the first goal, didn't help Maitland-Niles out much defensively, gave away possession a few times with sloppy/ over hit passes, but helped us win it right at the end with clever reading of the situation and a delightful back heel.
Iwobi - 5. Worked hard but little came off for him today.
Oxlade-Chamberlain - 3. No involvement whatsoever for the first hour or so, but a slight improvement after that before going off.

Giroud - 6. Frustrating evening as he was often isolated and on his own, though he was more involved in the second half. Scored a vital winner late on.

Subs:

Welbeck - Lovely to see him back.
Holding - N/A. Not on long.
Reine-Adelaide - N/A. Not on long.
3rd Round FA Cup Preston 1 Arsenal 2