Who was MOTM? Player Ratings v Big Sam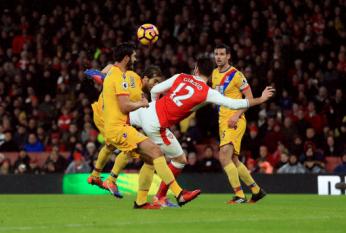 By Matty Sadler
January 1 2017
We took the lead in the first half after a spectacular finish from Giroud, and wrapped things up after a neat header from Iwobi in the second half. We could've really torn Palace apart if we wanted, but seemed pretty happy with our lot. That second half really dragged though... Good start to 2017.
Sky TV made Giroud MOTM, our rater is not so sure, so I leave it to the reader to decide and hopefully comment at the link below ratings:
Cech - 7. Little to do before being called into action a number of times in quick succession at around the hour mark, but dealt with everything.
Bellerin - 8. Best performance since his comeback. Good in defence and attack, just wish he could cross.
Gabriel - 7. Another solid performance. He's done well in Mustafi's absence.
Koscielny - 7. Solid.
Monreal - 7. Excellent going forward, particularly for Iwobi's goal. Would be an 8 but he struggled with Townsend/ Zaha at times in the second half.
Xhaka - 8. Dictated from deep. Getting better and better.
Elneny - 7. Kept things ticking over.
Lucas - 6. Not bad but not great either. Bit hit-and-miss at times.
Iwobi - 8. Did well as a #10. Linked up and scored a good header.
Alexis - 8. Didn't get much luck in front of goal but was excellent everywhere else.
Giroud - 7. Made up for missing a good early chance by scoring an audacious opener. Link-up play was so-so.
Subs:
Coquelin - 5. Slotted in.
Ramsey - 5. Did well and nearly scored.
Oxlade-Chamberlain - 5. Offered much-needed pace and drive but final ball wasn't there.