December crash Player Ratings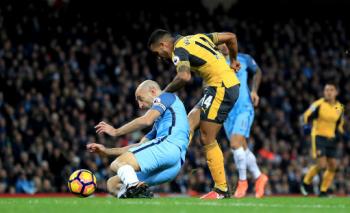 By Matty Sadler
December 18 2016
The very definition of a game of two halves. First half I thought we looked very good in possession, good on the counter and organised defensively.
First half I thought we looked very good in possession, good on the counter and organised defensively. I'd love to know what Wenger said to them at half time, but we came out for the second half and it looked like a bunch of strangers who'd never kicked a ball before. We were all over the place, defensive shape was non-existent and offered nothing going forward. Maybe I've been too generous with these ratings. If you were wondering about this team's character and mental strength then I reckon the last two performances provide a pretty good idea. Much like against Everton, too many players went missing.
Thoughts: I've always stuck by Ozil as he found his feet in English football but I have to say I think if we're going to play a player £200k+ a week then I want him to stand up and be counted when the going gets tough, but against Everton and City Ozil bottled it. If we aren't careful we could end up with another Walcott on our hands. Performances like this make me thing no amount of money could keep Alexis here. There was a moment in the second half where we were struggling and he was pressing, but everybody else was sat back, making pressing pointless. He looked like he was giving everyone a bit of a telling off for that.
Cech - 6. Bread and butter first half but made two good saves in the second half, though his kicking was poor and he was beaten too easily at his near post for goal.
Bellerin - 5. Looked good in the first half but was useless in the second. Struggled with Sane at times.
Gabriel - 5. Not "bad" but had a couple of iffy moments in possession, like the dodgy clearance, dodgy back header and went he held onto it too long and was fouled by De Bruyne.
Koscielny - 6. Good first half but wobbled a bit in the second.
Monreal - 6. Okay at times but Sterling cut inside him far too easily for the equaliser.
Xhaka - 5. Good first half but struggled in the second. Lost possession in some dangerous areas.
Coquelin - 5. Physically dominant first half but had a poor second half. Gave the ball away too often.
Walcott - 6. Plus points for a well taken early goal but went missing after that.
Ozil - 4. Failed to turn up again. Pathetic.
Iwobi - 5. Surprised he started over Ox but another who started well but faded. Notice the recurring theme in these ratings?
Alexis - 6. Thought he was superb in the first half but cut a frustrated figure in the second.
Subs: Oxlade-Chamberlain - N/A. Did nothing in the 10 minutes he was on before going off injured. Giroud - 5. Tried putting himself about to little effect. Elneny - 5. Always passes it about nicely but not much use when you need more going forward.
More discussion here