Ozil and Alexis The Dream Ticket Ratings v Basel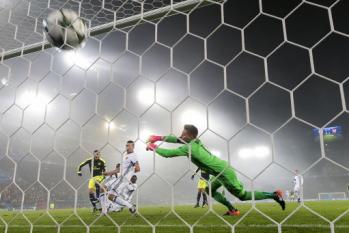 By Matty Sadler
December 6 2016
Had we named a weaker side and failed to capitalise on PSG's failure to beat Ludogorets, I think we'd have been very annoyed, but that was an absolute joy to watch. We looked confident and hungry. Use of the football and movement in the final third was excellent. We got our rewards as PSG slipped up and we won the group when it had looked very unlikely.
Before I give the ratings a few thoughts from me...

Gibbs looked very hungry tonight and was superb. He'll be looking to push Monreal all the way for that left back spot.

Aside from the Basel goal I thought Holding was very good. Great from a 21 year old making his first Champions League appearance. That centre back spot will be his one day I think.

The Xhaka-Ramsey midfield worked well, though it is important to remember that Basel were@#$%&for the most part.

Much better from Lucas tonight. Did exactly what Walcott does on the right in a slightly different style.

It isn't like they needed to, but Ozil and Alexis further underlined their importance tonight. They are just a class above all of our other players and occasionally have the ability to bring our other players up to their level. Contract extensions ASAP please!
Ospina - 7. Not overly tested but dealt with a number of crosses into the box and made some routine saves, as well as one excellent save in the first half.

Gabriel - 7. Slotted in well again at right back. Providing good cover for Bellerin.
Holding - 7. Looked great till the Basel goal which appeared to rattle him for a bit. Looks a very classy, cultured defender and a great signing.
Koscielny - 7. Solid at the back and good in possession. Surprised he played the full 90, but that may have been because of Ramsey's ankle.
Gibbs - 9. Assisted all three of Lucas's goals, defended well and offered a constant outlet. Looked hungry.

Xhaka - 7. A few sloppy moments but passed well generally and set the tempo.
Ramsey - 7. Disciplined performance deep alongside Xhaka.

Lucas - 8. Showed excellent movement to score his hat trick. Otherwise went about his business quietly.
Ozil - 9. Assisted one and played a big part in two of the others. Play for Iwobi's goal was brilliant. Ran the show.
Iwobi - 6. A bit hit-and-miss at times, but scored in the second half.

Alexis - 8. Played a big part in three of the goals and smashed the bar with a free kick. Top drawer.

Subs:

Elneny - 5. Slotted into midfield.
Giroud - 5. Missed a chance.
Walcott - 5. Had a tame effort saved.
More discussion on ratings here