No more Crab football and back to the future of Wengerball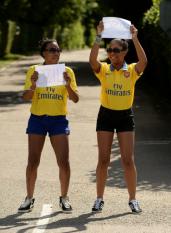 Welcome Ozil
By Merlion
September 9 2013
In the first two games in 2012-13 against Sunderland and Stoke City, Arsenal struggled against English team packing the box and refused to venture out of their half. We attacked them with a very predictable Crab Football style that passes the ball to death around the box that even truck-loads of Viagra will not help in penetrating the defence.
The opposition's tactics were simple:
"Let Arsenal having possession of the ball all the time. Dig in on our own half of the field, intercept the ball, perform a lightning-fast transition from defence to attack by playing a long ball to our tall and strong forwards."
And on August 17, 2013, Aston Villa did exactly that. Agbonlohar ran through our defence and won two dodgy penalties. The third was scored against Arsenal playing high-up on the pitch, leaving acres of space behind, a typical error for "kick and rush" teams to counter attack successfully against a un-coordinated Arsenal defensive unit.
The Lesson was learnt; to Tiny Totts' sorrow on Sep 1, 2013 when Arsene Wenger "Roped Da Dope".
Arsene Wenger packed the box and was savvy enough to perceive that AvB believed his team was superior to Arsenal and would win by playing attacking football with pacy wingers and wing backs. Arsene Wenger had learnt a valuable lesson in the Aug-17 loss.
Wenger decided to play "Anti-Football" by defending in our half and inviting Tiny Totts to attack us. It emulated Denmark in Euro 1992 where they deliberately gives opponents a lot of space. Denmark deliberately gave full backs space to do the build-up from the back – (like we gave Rose and Walker) – and then counterattacked.
When Spurs lost possession,they left oceans of space on the outside behind the defence and Arsenal took advantage of this with their counterattack. And Totts' problem was compounded as their newly-bought midfielders and defenders lacked the basic understanding to defend as a unit to play attacking Football, hence exposing their flanks and centre to quick counterattacks.
After playing one season together with the same unit, Arsenal have the basic cohesion to perform a quick transition from defending to launching a lightning-fast counter-attack before Spuds had time to reorganize the defence.
For the past few seasons, Arsenal players have held onto the ball for too long, passed too predictably and been easily anticipated by defenders. Invariably, frustrated Arsenal players tend to dribble through a wall of defenders or desperately tried to thread a through-ball with 2 or 3 defenders in front of them to make things "happened".
This was compounded by too many disloyal and mercenarily senior players leaving Arsenal. Players did not develop a tactical cohesiveness, especially raw and young players who are too slow to recognize the continual changing tactical situation on the pitch, constantly involved in positional plays and anticipate whatever possibilities may develop. They simply executed too many stray passes by failing to anticipate and track the runs of their team-mates while in an open position.
During 2012-13, Arsene Wenger realised that without Van Persie, Arsenal players lacked confidence in each other and therefore in the team. Without Van Persie, they felt the team lacked that little bit extra, even with new "unknown" players in Giroud, Podolski and Cazorla.
March 2, 2013 Arsenal lost 2-1 at Tottenham with their Top-4 status appearing to be in tatters. Per Mertesacker gathered the players in the dressing room and gave the team a good talking to. The players started to communicate with each other, and in the process, the Wenger's "3rd Arsenal Team" came together as a solid team out of eleven individual first-rate players. A new-found team spirit developed which is essential to inculcate tranquillity, camaraderie and unity within the team; the starting point to build the foundation for the team's tactical development.
In WengerBall, when the ball is lost, eleven players participate during defence, and eleven players participate during the build-up and attack. The demand of WengerBall is to turn the ball over as few times as possible during the build-up. Players must not hang on to the ball too long, that is, use the ball efficiently and not too "artistic or showboating" in executing too many Hollywood passes. "Efficient" means by having a lightning fast transition from one team function (defence, midfield and attack) to the next one, from slow to quick or vice versa.
Arsene Wenger knew the other important aspect of the team building process is the psychological foundation of having a group of committed and home-grown players – Brit Pack – hungry for success and determine to succeed. Arsene Wenger demanded his players to play to convince him to stay on; and show the hunger for success of this group of players will drive them on to make that dream come true and win the first trophy since 2005. Perhaps even coming 2nd in the League is like "winning a trophy"!
The cardinal rules for playing WengerBall are:
"You must never play 4-3-3 or 4-2-3-1 without quick defenders who excel in 1-on-1 duels and who are exceptional in the positional play to dominate large spaces."
The pace and quickness of Koscielny or Sagna (perhaps Vermaelen as well when he recovered his match sharpness and form) in partnership with Mertesacker's organisation ability in Back-4 means Arsene Wenger had finally resolved his defensive problems. Mertesacker's leadership quality with Back-4 was what was lacking in previous seasons.
"An excellent sweeper is needed to play defensively behind the Back-4 and offensively in front of the Back-4."
The sweeper plays a key role in distributing short and long passes. He is the first playmaker. Arteta and Flamini is an interim measure to allow Ramsey, Wilshere and Diaby to develop into this role. Arsene Wenger or the next manager still retains the option to buy a sweeper in 2014 if both Ramsey and Wilshere fail to develop as planned.
"When in possession, attackers are not allowed to play too close together in the centre of attack and they had to be able to receive the ball in the space on the flanks."
This season, we constantly combine passes in a high tempo, with Arsenal players seldom holding onto the ball for too long, always looking for quick-fire passes, and quick one-twos to beat a packed defence. It is no wonder that Wenger values a healthy Tomas Rosicky so highly as his darting runs forward, his quick fire-passes and running off-the-ball that effectively lead a young MIDFIELD to play at a high tempo instead of leisurely passing the ball around the box to death for the past few seasons.
The transition from defending to attacking and vice versa takes place much quicker with accurate and perfectly weighted passes out of defence. His effervescence presence and tactical nous helps to develop youngsters like Ramsey and Wilshere. And Rosicky is the reason why this season that our young midfielders play with purpose and directness at a high tempo. And Walcott had matured into that deadly right-forward that Wenger wanted. We have plenty of movements down both flanks in Gibbs-Monreal, Sagna-Jenkinson, Walcott, OX, Poldolski, Cazorla and youngsters like Gnabry, Eisfield and maybe Ryo.
But we still lack a "can opener" against teams that will pack the box against a superior Arsenal side. And so the club has bought Mesut Ozil. Is he the ideal playmaker that Arsene Wenger craves?
Has Ozil the attributes required to make the following happen:
A "can opener" with the speed of thought that spots an opening much faster than defenders can close down the passing channel. Certainly, Ozil's technical and tactical qualities can superbly set off our pacy midfielders like Walcott, Cazorla, Poldolski, Oxlade-Chamberlain, Gnabry, Ryo, Eisifeld, et al, running down the flanks, between defenders or blindside running behind defenders. Not forgetting Giroud's knack of pulling away from defenders and then suddenly cut in front of them to latch onto a pass from the flanks.
Ozil is an experienced player who can better anticipate the game situations, can increase the tempo playing one-touch combinations with superb positional play. He can also dictate the speed of the game, e.g. one-touch to speed-up, but also deliberately slowing down the speed of the game to give teammates time to get in the correct position.
Karma.
We meet Sunderland and Stoke City in succession again like in 2012-13. These two matches is the barometer to show how far this rebuilt 3rd Team progresses since August 18, 2012. Will WengerBall be vindicated with two wins with Ozil as the "can opener"?
"I have a Dream."
This Eternal Optimist prefers the symmetry of 2007-08 where we led the table by 5 points in February 2008. Can we do that by March 2, 2014; a complete turnaround after WHL 2-1 loss a year ago?