Arsenal v Chelsea Preview : 3 points please!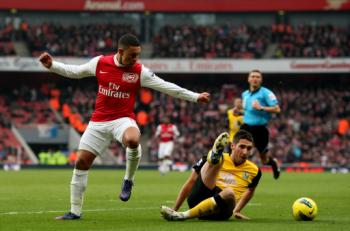 Ox or Ram?
By David Akosim
April 20 2012
A victory in the last London derby for Arsenal will be an important step towards top four qualification. We are at present 4th in the Premier league form table, with 2 defeats and 7 wins in the last 9 games. Nonetheless, what should not be ignored are the last three games. We have managed to collect a mighty three points against the relegation fodder in the league.
Now yes, we are all aware of the supernatural powers which these teams possess during the last two months of the season, but there should be no excuse for Arsenal football club losing at home to Wigan Athletic. None whatsoever. Midfield injuries and a worn out RVP suggests we will be, and for some players quite literally, limping across the finishing line.
Ramsey v Ox
The absence of Mikel Arteta, probably the stand out signing of the season, means we are once again short in midfield. Abou Diaby played 45 minutes in a reserve friendly, but after the Liverpool debacle, I will be surprised if he gets a starting place.
That leaves the much vilified Aaron Ramsey vying for a place with the much applauded Oxlade Chamberlain. Many supporters, not just in this forum, have criticised the young Welshman for his recent poor form. To be honest, "recent" is being kind, with the exception of a few standout games, he has underperformed all season.
The best thing for Aaron Ramsey is to put this season behind him, take a break, have a full pre-season and start again in August. Worse players have done this and had a successful following season. With Pearce likely to pick Ramsey for London 2012, I doubt he will have a full pre-season with the squad.
All the talk has been of Ramsey's poor form and questions of his supposed "Potential", but has 'the Ox' really performed much better? Since his outing against A.C Milan, he has had several substitute appearances, yet has failed to make an impact. Maybe his enthusiasm, youthful and willing determination has won over supporters, but is he ready to start in such a must win game?
Nonetheless, whenever Chamberlain has started the lad has done well. He was our best player against Manchester United. His quick passing and ability to take on a man might give him the edge over Ramsey.
There will be no hiding place (as Theo learnt during the 1st half against Spurs) at the emirates come 12:45, so whoever does start needs to grab this chance.
Can RVP do more?
RVP has been exceptional all season. But during the last 6 weeks his form has declined. Fatigue must be taken into account but he was poor against Wigan To be sure of third place and the Golden boot, Captain Van-tastic must regain some form. It is not his fault he is the only competent striker in our team, but that is, unfortunately, the dire situation we are in.
Chelsea Tactics
Once again this Chelsea team, managed by the three musketeers: Terry, Lampard and Drogba, have somehow found title winning form during the end of the season. It happened after the sacking of Mourinho and Scolari, and is happening again, since the beheading of AVB.
With their champion's league semi on Tuesday, changes are to be expected. Torres, Sturridge and either Kalou or Malouda will lead the line. There will be a lot of movement and interchanging between the three. Any spaces in our defence will be exploited.
http://www.zonalmarking.net/2012/04/02/qpr-v-arsenal-diagrams-and-chalkboards/
When Mark Hughes was the manager of City, he realised Vermaelen was prone in coming out of defence to support the midfield. This is all well and good helping our attacks when in possession, but under the counter attack, it will be a position Chelsea can exploit.
Most opposition, even Villa, at the Emirates have counter attacked us at ease. It is a problem which needs to be addressed. The midfield needs to work harder to maintain its shape when going forward, same with the defence. This is definitely an area Di Matteo will look to exploit, as he did with West Brom last season.
Chelsea's midfield trio will be hard to predict. Romeu and Essien are likely to come into the team. Essien is no longer the player he once was. He has looked lethargic and slow in his few outings this season, so energy in our midfield will be essential. Their best player Ramires is likely to be rested along with Lampard. At home the midfield is an area we can dominate, but big performances will be needed.
This Chelsea team is beatable. I believe the table is correct; we are the 3rd best team in the league. There is little reason not to be confident ahead of the game. A win is needed, and I believe an Arsenal win will occur. Midfield will be where the game is decided.
Key Battle: Cole v Walcott
Young Left back Bertrand has been used to give Cashley a rest at times this season. The same might happen again on Saturday. But if the 'greedy arsehole' does start, Walcott should relish the battle. In the last two games against Chelsea, Theo has scored twice and given Cole a horrid time. He will be swerving off the side of the road just thinking about Theo running at him.
Statistics
Chelsea Top Premier League scorers:
Lampard: 11
Sturridge: 10
Mata: 6
Clean sheets
Chelsea: 9 Arsenal: 12
Goals conceded per game
Chelsea: 1.38 Arsenal: 1.26
Goals and Shots taken
Chelsea: 59% shots from outside box on target Arsenal: 33% shots from outside box on target
(With us often conceding from long range strikes, the midfield will need to close down the midfield and restrict space)
Time of goals
Chelsea: 34% 50-70 minutes Arsenal: 27% 30-50 Minutes
20% 80+ Minutes 22% 80+ Minutes
Chelsea Away form: Won 6, Drawn 6, Lost 5
Arsenal Home form: Won 12, Drawn 2, Lost 3
Possible line ups
Arsenal : Szczesny, Gibbs, Vermaelen, Koscielny, Sagna, Song, Ramsey, Rosicky, Gervinho, Walcott, RVP
Chelsea: Cech, Boswinga, Cahill, Terry, Cole, Romeu, Essien, Meireles, Sturridge, Malouda, Torres
Prediction: Arsenal 3-1 Chelsea
Rvp, Theo, Ramsey Malouda
What is your prediction? Go the prediction league and make yours.