9th Defeat Not 8th Victory RvP Goal Drought Brain Damage?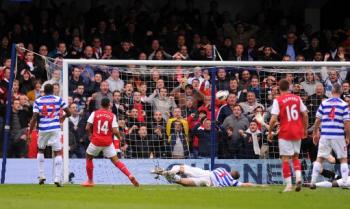 Fox not Ox
By Boris Mellor
March 31 2012
For several years I have said to friends "This Team Hasn't Got a Run In it", I didn't believe that Wenger's teams since 2004 have had the strength to go on a run like the Wenger teams of the past. The last time the team went 8 wins in a row was March 2004.
Then after January the team went on a run, 7 wins in a row, the best run in five years. I was becoming convinced that at last Wenger had put together a team of real mental strength. Yes QPR would be a tough game, they beat Liverpool, but so what, King Kenny's team is mentally feeble.
So I expected the team to overcome any difficulties and dispose of QPR, unfortunately I have the feeling that the team didn't realise, or didn't want to, that it would be necessary to work hard to win the right to play football against QPR. What I didn't take into account was the weakness of the squad and Arsenal's continuing discomfort at facing relegation teams.
All credit to QPR, who for much of the match ushered Arsenal away from danger areas and restricted the reds to seven shots on target, and managed 8 shots on target themselves. Why do Arsenal need so many shots to score one goal? QPR get 1 goal for every 4 shots, Arsenal got 1 for seven. There is no blaming the referee here, QPR won fair and square. They also exposed the idea that this team might be wearing the cloak of potential greatness.
Ah but its only one game some cry, you can't judge on one game, very true that is correct. But you can judge on the whole season so far. This isn't one game lost in isolation, this is the 9th defeat all season. The fact that Arsenal is third after losing 9 games tells me more about the weakness of the top 6 or 7 clubs in the premiership than the idea that Wenger's squad is on the edge of greatness. It is another defeat against teams we should be able to beat. Man U, and Man City I can cope with, but the teams below Arsenal should be beaten.
As Arsenal struggled to equalise at 2-1 down Wenger brought on Gervinho, Chamakh and the Ox. QPR must have soiled their underwear at the thought of it. Sorry about the sarcasm, but apart from the Ox, I have no confidence that the other two can ever make a devastating impact.
I don't understand why Wenger didn't start with the Ox, is it part of his plan to encourage Walcott to stay? Unfortunately my scepticism was confirmed by subsequent events.
Van Persie Goal Drought Continues
We have all wondered what would happen if RvP was injured, but we didn't think what would happen if he hit the wall. He now looks jaded and off the pace, well for two matches we survived without him scoring, but Villa were one of the worst teams I have seen this season.
QPR parked the bus, and apart from a great goal by Theo no one else could break the deadlock, we needed some magic from RvP but the he couldn't provide it. He may well be exhausted after carrying such a heavy responsibility all season.
Many fans have questioned the inclusion of Ramsey, and I must say it was hard to be convinced he deserved his selection today, I assume Wenger has one eye on next season, if he has, one thing he may have noticed is that he still has a lot of dead wood in his squad that need to go, and that a few quality buys would not go amiss. He needs to be able to summon some impact players from the bench. He has no faith in Park or Benayoun.
I watched the game at the Emirates club level live screening, it was my young nephew's first visit to the stadium, even though it was a defeat he still enjoyed his visit. After the game we went to the museum and he enjoyed seeing and hearing about the legends from the 30s, 50s, 70s, 80s, 90s and then 2004. He loved the invincible trophy. Somehow since 2004 Wenger has lost the ability to win trophies, this squad, without major changes, is not about to change that. Of course it can fight for 4th place, or possibly third, but I doubt if many, if any, of this squad will be remembered in the museum that my nephew enjoyed so much.
The staff were wonderful making his visit a very happy one, and like most 8 year olds he wasn't that bothered by the defeat. Indeed he had me in stitches as he decided the reason for Arsenal's poor passing in the last third was due to brain damage. He felt they had headed the ball too much and that had given them brain damage. He had a point QPR made it difficult for Arsenal to keep ball on the ground.
One game tells you very little, but ten games do, this is number 8 of present sequence, number nine will be Man City, I really hope the team regains its new found mental strength, for they showed very little of that today, playing mostly with the handbrake on, but it's only a game, be careful out there.