Krul End for Time Bandits Wenger Praises Walcott Thanks Webb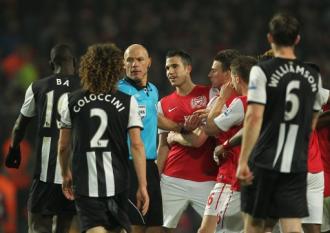 Tempers Fugit
By Boris Mellor
March 13 2012
I can't remember so many fans staying so late at a game, very few had left by the 99th minute when the game actually finished, and even then many still didn't want to leave. They stayed to applaud the team off way beyond 10pm, and risked missing their trains to the eastern and northern counties.
Thanks Howard Webb and Crowd
The crowd were not best pleased with Webb, and even less pleased with Krull, but when 5 minutes was displayed the bloke next to me thought I had read it wrongly. However Webb must have allowed time for all the time wasting of Krul, what a delicious irony that it was the very last of these five minutes that saw Newcastle go down to a cruel defeat, not that the Arsenal fans were that bothered. Indeed to me the celebrations seemed louder and longer than anything that happened against Milan.
The crowd had done well to get on Krul's back, howling at every split second he wasted, I have seen far worse, but it paid off, for Arsenal. Well done the crowd, it meant that Webb couldn't ignore the time wasting tactics.
Bookends
It was Vermaelen who made the mistake that gave the barcodes their goal, and it was Vermaelen who scored Arsenal's winner. What a night for bookends. Newcastle's number 10 scored, and seconds later the Arsenal number 10 equalised. It seemed an act of willpower, the crowd sang he scores when he wants to celebrate RvP's 26th league goal.
But for the rest of the evening it seemed that Newcastle's pressing defensive game would stop Arsenal scoring again. I must admit on the 94th minute I nearly gave up hope feeling that it wasn't to be our night. That was just before Vermaelen arrived like an express train to score the winner, he is all heart.
It was that feeling of relief that you get at the end of watching a three hour long Greek tragedy, cathartic release at its most hysterical. It's as good as watching Hamlet and King Lear all rolled into one.
Very few rushed home, lingering to watch the concourse TV I learnt that Arsenal had 23 shots to Newcastle's five. The crowd were not wrong about Krul, time wasting was a key part of his team's limited ambition, but like the Time Bandits his attempted larceny was foiled. I loved the way that the fans crowded around the TV watched as if it was for the first time, taken by surprise at every goal.
Geordie nation laughed one fan on the way out, they only took up half of the away end, WBA would have done as well.
Tempers fugit

Wenger Singles Out Walcott
A friend text me to say Walcott was Sky Man of Match, a just reward as he played the key role in both goals. Rosicky had another blinder, and having full backs again has really upped the tempo. In his post game letter Wenger singled out Walcott for praise having a knock at anyone who has criticised or doubted him over the last five years, reminding them he is only 22.
Is it me Arsene or is this team getting older?