Celine Dion has a perfect day Walcott not booed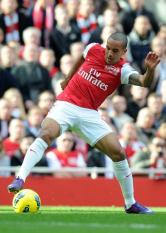 No Boo
By Celine Dion
February 27 2012
Nick Hornby at one point in his book 'Fever Pitch', lists the various factors that make for his perfect football match. Those of you who remember the passage will recall that he was rather demanding, he liked to have his pre match meal in a particular place, he liked a high scoring game with Arsenal winning by the odd goal, where the goal scorer celebrated the winning goal right in front of him. He liked a sending off and a ludicrous refereeing decision against the other team.
As I say, Nick writes quite a long list. My requirements are a lot simpler. My perfect football match is one where we beat Tottenham scoring 5 goals. Arsenal v Tottenham is the highlight of my season. Every season. Simply because it is how every other football match at the Emirates should be, but isn't. If you were there yesterday, or at any of the others, you will know what I mean. It feels like the old Arsenal. You can keep your Barcelona's and your Manchester Cities as far as I am concerned.
Not that the run up to the game filled me with any confidence. In fact I have predicted more than once that I thought a heavy defeat would spell the end of Wenger, and I did anticipate a defeat. And for all those who will claim that they were never in any doubt, I wasn't the only one.
For all the internet tub thumping that always goes on, I took a walk round the surrounds before the game, nipped into The Gunners and the Auld Triangle, and the atmosphere was subdued. Conversation was about hope rather than in expectation. There was the police presence, and the helicopters, to add to the edge. Like the old days. To frame the run up to the match perfectly, when I arrived at the ground I was met with a deafening chorus of 'Arsene Wenger, we want you to stay.' It was coming out of the away concourse.
An observation would be that Wilshere, and perhaps Diaby apart, Wenger actually managed to field a full-strength line up. And it was he that pulled the selection surprise, with a five man midfield, starting Benayoun and the Grandma (Rosicky to the unitiated) in what I thought to be a less than dynamic pairing. Anyway, how wrong I was. It isn't worth talking about the two Spurs goals. By the time the second one went in, everybody around me was agreed, that we were actually playing very well. Except for Walcott, as has been well publicised. For the record, he wasn't booed. But his continual losing the ball led to a great many concentrated howls of frustration. That said, support for the team overall was continual, and became more defiant as the half went on.
Rosicky, playing like he had discovered some kind of elixir of youth, tested Friedel with a flicked header, RVP missed a sitter, then hit the post, before the quick thinking Arteta floated the ball deliciously into the box for Sagna to arrive late with a purposeful header. A lot of us had it down as a superhuman effort, from outside the box, but I realise now that was just the occasion getting to us. Worth noting that it was Theo's exceptional flick through to Robin that started the panic which lead to our revival.
Next was the best moment of this or any other game I have been to in about 5 years. I haven't really seen the replays properly, but in my minds eye Robin Van Persie is bathed in a kind of golden light, with Kaboul and King sort of lying at his feet as if they have been slain, time stands still for a good 5 minutes as the ball, trailed by a white mist, curves in an ethereal arc into the clock end net. And I don't think I will watch any replays, because that is how I want to remember it, until I die.
I think it is fair to say that after that moment, a great sense of purpose and optimism went through the entire crowd. At half time there was singing in the drinks queue, there was singing in the toilets. There was singing at the sauce stations. For those that don't get to the Arsenal – it isn't normally like this. We weren't going to lose.
The second half was a procession, frankly. Wenger bangs on about tempo, and you can see why, Spurs couldn't cope with it. Wenger bangs on about mental strength, and you could see why. The players refused to lose, when recently it's almost seemed that they were refusing to win.
A great deal of credence, on this evidence, can be given to Wengers' belief that missing full backs has more or less wrecked our season. Wenger also mentioned the pitch, and that we were playing on a proper surface for once.
When you consider the tight sharp flicks and triangles that the midfield used to bamboozle Spurs in the second half, you can almost see what he means. If you want to know what I think won that game, I think it was the fans, as much as the players, frankly. Not with our support, although it was fantastic. I think their personal and footballing qualities had been called into question once too often, by many of us, over the past weeks. And I think they were determined to prove us wrong, and not to let us down, and not let the manager down. And they didn't, and if they can carry on doing it. It's fine by me.
I would have been quite happy if the 2nd half had gone on forever, perhaps with regular breaks for drinks and the toilet. It had to end, but by the time it did I had become close personal friends with everybody in my row, and people several rows in front and behind as well. If I was ever to get married again, they would all be invited. When the fourth goal went in, two burly gentlemen engaged me in such a ferocious hug that I thought I had broken my ribs and had to sit down. When Walcott smashed in the fifth (and you won't see a better pass than Songs all season by the way) the neighbours from the row in front climbed over the seats and we made love there and then. Or we didn't actually. But we probably would have done if Rosicky put that last chance away to make it 6.
So what of Tottenham? Why were they so poor? I think it is clear really, for the first time since the late 80s I think they turned up expecting to win. And there was a strange lack of tactics from Redknapp once they went 2-0 up. Surely Spurs should have dug in, for an onslaught from a wounded enemy. But they carried on strolling about trying to get the ball to Modric, as if they thought they might pop in a few more. That's arrogance, it's the sort of thing we get accused of, and Redknapp needs to sort it.
And a word about Adebayor. I personally think I might have spotted the first green shoots of 'Bad Adebayor' poking promisingly through. In the second half, amid a backdrop of horrendous barracking, I could see him close up, and he had that familiar head lolling, half smile that said to me 'I'm Adebayor and I don't really give a sh*t WHAT the score is'. I hope I'm right, because as we all know, 'good Adebayor' can be unplayable.
As we filed out, stopping to drink in every last drop of the best of atmospheres, and show our respect and thanks to the players, it was pretty clear that the red half of North London was going to get on the beer, even if it was a Sunday.
I stopped off to meet Mr Boris Mellor, publisher of this esteemed site. We were all on a high. But rest assured, dear readers, that our magnificent negativity soon resurfaced. We don't suffer from lastgameitis, like so many others. Will this great performance launch us towards the top of the league? Perhaps, but we should be there anyway, given our tremendous stadium and our fantastic huge passionate support. Will we use it to cement fourth or even third place? Indeed we might, but these are not trophies, no matter what Wenger or Gazidis will tell you. Will we go up to Liverpool next weekend and nail a vital away victory? I won't be betting on it. Will Benayoun Arteta and Rosicky play like men possessed in their next 50 games, and become Arsenal legends? Well, I would expect the effort to kill them to be quite honest. Will Wenger use the day as a platform to spend, to become more ruthless with weak performers, will we see a new found consistency? What do you think... ? But who cares, not me, not today, you have to take each game on its merits, as a day out, and today was a top top drawer, full value for fifty two pounds then some more value on top of that. The players, fans, and manager came together and restored some pride for all of us to enjoy.
I left the Bank of Friendship intending to go straight home, but as I walked past The Gunners, I could hear a wonderful noise from inside. A quick peek round the door showed me a huge party was in full swing. I allowed myself twenty five minutes of mindless singing and jumping up and down, ending with a wonderful rendition of 'lets go f*cking mental' by the toilets, with people throwing beer in the air. Then I went home and back to normality.
See, it is possible to be negative, and still have a wonderful time.