Pinch of salt causes divorce? Wenger master of half measure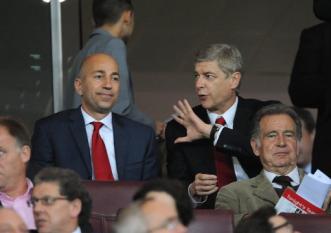 By Boris Mellor
January 23 2012
A man came home and sat down for his dinner, his wife put the plate on the table, he took a bite, shouted this tastes disgusting no salt, he smashed the plate and stormed out. The next day he sued for divorce. Now if anyone believes that the real cause of his anger was the lack of a pinch of salt then they are very naive.
Against Manchester United some of the crowd issued divorce proceedings against Arsene Wenger, and the cause appeared to be the substitution of Oxlade Chamberlain for Arshavin. It certainly was the cause of the immediate anger, but if anyone believes that it is the real cause of the breakdown then they are very naive.
What initially made them angry was what appeared to be a very poor decision at a key moment to take Oxlade Chamberlain off. Perhaps Wenger was telling the truth and the Ox was tiring, but the Ox wouldn't admit to it after the match, instead he kept repeating he respected the manager's decision.
Maybe the crowd believed that Oxlade Chamberlain could have made all the difference, maybe he could have, but only to one match. Meanwhile Wenger played two backs who to different degrees displayed incompetency, added to this is the fact that none of Wenger's midfielders can score, none of his strikers apart from RvP can score. Occasionally his defenders can score, but overall the goal tally is poor.
Not just the money
Arsenal have a defence with a glass chin, an attack that suffers from scoreophobia, and a weak squad. To raise this invites scorn, so you want to spend a lot of money, you want to bankrupt the club? I don't know these fans who advocate big spending I am not one, because I think Arsenal spend enough money, it's how the money is spent that I dispute. Plucky little Arsenal now go to the mighty Fulham and Swansea and feel proud they have lost by a narrow margin. It's the referee, it's the fixture list, we weren't rewarded, we weren't focussed. Wenger has an answer for every mess up, he always has someone to blame. Maybe it's time he looked a little more closer, and if you get too close you are told you are not a real fan. And then it's the refrain about spending.
It's the ethos, not the money
How is it that Swansea have a better home record than Arsenal? Is it that they spent more money, how is it that Tottenham are playing better than us, do they have more revenue? Money is part of the story but it's not the whole story.
Wenger got rid of his stars claiming that youth were the way forward, some fans think youth come free, just like the beer on club level, except you pay through the nose for the beer on club level. Why do you think Walcott and the Ox came to Arsenal, they love Wenger more than Ferguson? Maybe, but I suspect the fact that Wenger offered treble the wages helped. Welbeck earns far less than any of Wenger's underperforming stars.
So Wenger sells top stars, mainly at undervalued prices, and brings in inferior players, meanwhile we wait for his youth to turn into stars. Wenger believes he is an alchemist turning scrap metal into gold, unfortunately for every bar of gold there is a ton of dross. That is how it is how it's always been; its not unique to Wenger, only 1 in 10 ever make it to the top. The problem is that the mad alchemist working away in his cave is paying too much for the scrap metal, the game is not worth the candle.
Back to the ethos
Meanwhile Wenger couldn't be bothered to teach defence, this year for the first time in 14 years the defence is training on its own. For fourteen years Wenger refused to listen to the idea that defences need drilling, then he suddenly discovered it is the right thing to do. Perhaps it didn't matter when you had guys like Adams, and midfielders like Vieira and Petit, but as the mediocrities increased in number so the defences became more shambolic.
How to destroy the Captaincy and the ethos.
Wenger claims that who is Captain didn't matter, and so we had a whole line of players preparing to leave made captain in the hope they would stay. The fact that RvP was made captain should worry fans, have any of them lasted lasted 3 years? Most of them have lasted far less. Everyone of Wenger's captains appointed after Adams has helped to demoralise the team on their departure. Anyone can be captain, and no one is captain.

Players have consorted with agents just before key games, Cole, Flamini, Hleb, and Fabregas have all done it, but Wenger has always covered for them. Wenger has pretended players are staying when the whole world has known they are going. Sagna said the team's confidence was shattered when Fabregas went. Can you imagine Ferguson putting up with this behaviour?
Arsenal's season went wrong not when the Ox was taken off, but in June when Wenger refused to prepare for a team without its stars. His living in denial went on right up to the end of August, and the start of the season was a disaster for a team that needed to finish 4th.
A team needs to be larger than the sum of its parts, but Wenger's team is now less than the sum. A group of disparate individuals that do not play for each other. Rarely do they cover for each other, or press for the whole game.
Half Measures
Arsenal is a team of half measures, players play half a game, against Fulham they played the first half only, against Man U it was the second half. They take after the manager, a dog looks like its owner after a while. Wenger is the master of the half measure, every year he fails to strengthen his squad in key areas. This year we need a striker, he signs Henry, great, but he will be gone in a month. The team is short of left backs, he hums and ha's, then he thinks he has solved it with Vermaelen, but fails to notice that his right back is falling apart.
Yes the crowd sing spend some f%c%king money, they don't sing spend load of money on overrated overpriced superstars. They sing it because they know the squad is weak, they want the squad strengthened. They can see that the bench was threadbare, they can see the squad is not up to it. Last year we had to endure Wenger telling us that it was his strongest squad ever. He then shipped out ten players and brought in ten more. Strange thing to do to your strongest squad ever, meanwhile players such as Bendtner, Denilson and Almunia can't be sold as no club wants to pay their wages.
When the crowd jeered Oxlade's substitution they were not booing Arshavin, they were booing Wenger. Some pontificate that the crowd shouldn't have booed at all, well they should listen to Wenger, who stated that the crowd pay for their tickets and they are entitled to boo. They are also entitled to see a stronger squad, but that is unlikely under Wenger.
The relationship between Wenger and many fans has now broken down, at one time any dish he cooked was declared wonderful, now the lack of a pinch of salt can initiate a storm. It is unlikely that the rift can now be repaired, unless Wenger's squad starts over performing, and that is very unlikely.