We Only Sing When We're Winning Spot The Difference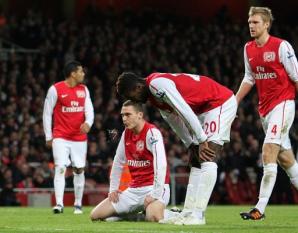 Oh dear
By Boris Mellor
November 27 2011
Arsenal started this match in seventh place and ended it in sixth, by Sunday evening, with Liverpool drawing with Citeh, they had returned to 7th no ground made or lost. Clearly demonstrating how hard it is to get to the top when you prepare for the season four games too late.
A friend watching from home text me to complain she could only hear the Fulham fans. At the top of the North Bank I couldn't hear them at all. No doubt they were making some noise, and the Arsenal fans were quiet, but there is an old TV director's trick of putting the mic in amongst the away fans. Meanwhile a fan sitting two seats away was arguing with a steward as to why he couldn't stand up. He then walked out not to return, maybe he found somewhere where he could stand.
Until the 65th minute the match seemed of little importance to either Arsenal fans or players. Fulham haven't won at Arsenal in 25 attempts in all competitions, and lost 22 times. For a glorious 17 minutes Fulham fans hoped that the record was about to be smashed. Maybe the record explained the ennui that enveloped the stadium. Arsenal's football was laboured and rarely looked like breaking through, but no Arsenal fan expected a Fulham victory so they sat on their hands waiting for history to do its work. But as Engels remarked to Marx that old horse history does nothing on his own.
Sing when we're losing.
The crowd were right, Fulham would not win at Arsenal, but on the 65th minute TV's own goal shook that belief a little, it even forced the crowd to start singing and chanting. The crowd now roared the team on, surprisingly, well at least to me, it was Diaby that was the most effective substitute. His presence seemed to liven up the tempo of the whole team.
Considering the team looked so tired and out of sorts I couldn't understand why Wenger waited until 68 minutes to freshen it up. If you ever dare criticise Wenger the response is nearly always about how little money he has. So what has money got to do with his oft repeated inertia in making substitutions?
However, if Wenger was expecting a goal from Gervinho or Chamakh we would all still be waiting, but to be fair they both added to the sense of urgency and determination that typified Arsenal's play at long last.

Finally on 82 minutes Walcott's cross found TV's head to end Fulham's dream of breaking that duck. Now the crowd and team became even more fervent in search of the winner. Yes at last here was the team spirit, of which Wenger's teams are so famed. Unfortunately it was all too little too late.
Spot the difference
Football fans are fickle, if Arshavin's 4th minute goal had stood no doubt he would have been an hero, at least he got a half hearted rendition of the Adebayor song before the grumbling started. I didn't feel he was that bad before he faded in second half. Sometimes he seems to be a bit too bright for the plodders around him.
The fact that the two Manchesters' also dropped points evidences the effect of the Champions League. However, the top two losing points is of little solace, or importance, at Arsenal, its 4th place that counts, and unfortunately this result did not aid the Gunners, thus the departing crowd paid scant attention to the result from Old Trafford.