Ferguson never whinges - only Wenger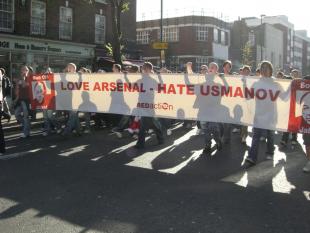 Keep out
By Boris Mellor
February 17 2008
Why Can't Wenger be like Alex Ferguson, who as any Man U website will tell you never whinges. Indeed a lot of Man U web sites are telling us so this weekend. However, they concentrate on the failings of Arsene Wenger, and fail to record Alex's brilliant record on responding to setbacks. So when his team had a disappointing 2-2 draw at Arsenal in November he was full of praise for the Gunners.
No whinging from the Scots Knight instead he accused referee Howard Webb of favouring Arsenal in the 2-2 draw at the Emirates. "I think Howard Webb has a great chance to be the top referee but today was a big game for him and, at times, he favoured Arsenal," Ferguson told MUTV.

The sporting Scot went onto say: "Their second goal came from him not giving a free-kick for a foul on Louis Saha. It should've been a foul for us." However Ferguson was sympathetic to Webb's plight, stating, it was hard for referees not to be influenced by hostile home crowds.

"It is very difficult for the referee," he added. "On our bench, we were getting terrible abuse from people two or three feet away from us. "

"There is a lack of security. It is absolutely disgraceful the abuse you and your staff take. All sorts of things are being shouted and screamed at you and there is an absolute danger here." And when United lose he is just as fair, rather than whinge he pisses off quick leaving it to his deputy to handle. It must be wonderful to have a manager who is such a paragon of virtue.

Why can't Wenger take it as sportingly? Instead he said, "I still thought we had a good enough team to have a chance but United were better than us." How dare he come out with such a biased view.

It is time the FA acted, it is clear that only Wenger whinges, no other manager in the Premiership has ever complained after losing. Like Alex they all take it sportingly, they all tell the truth and admit they made crap decisions. Why is it that Wenger is the only manager in the whole of football to behave this way? Where does this unique and singular behaviour come from? Is it because he is French?

There again it might just be that some Man U websites are run by gormless arseholes.