Tottenham Make Henry Laugh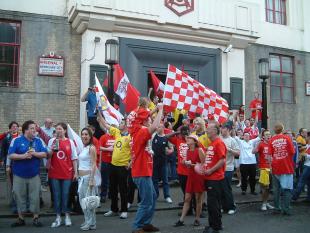 WLWHL
By Boris Mellor
April 30 2007
Once again, last week, the Spuds celebrated as if they had won the World Cup on drawing 2-2 at home. It meant they had dropped two places, and will struggle to get into Europe. Whilst for Arsenal it meant 4th place and the CL was guaranteed.
Thierry Henry was amused to watch these antics and has told Arsenal fans in the Fulham match day programme:
"What makes me laugh though is the way Tottenham always celebrate whenever they get a draw against us! I would like to remind them that once again they have not made the Champions League."
Henry was "amazed to see their reaction at the full-time whistle. I had to look twice at the score on the TV because I thought they had won it the way they were celebrating. When I celebrated my equaliser against them at home last season I did so because the goal had a meaning. It turned out to be an important goal in the race for fourth place. I wasn't going to celebrate just because we drew against Tottenham."
Henry also remembered the year Arsenal won the league at White Hart Lane, and again they celebrated like mad. However I think the muppets probably didn't realise that a point was enough to bring the title home. They thought they had stopped us.
As Henry eloquently puts it:
"It was the same when we won the league there in 2004. They equalised to make it 2-2 that day and when I saw Taricco celebrate so much that he injured himself, I said to him 'you do realise we only needed a point, and now we are celebrating the title on your ground?'"
For a large selection of Arsenal Books, DVDs, PC games AND MORE at Bargain Prices visit the Arsenal Times Store CLICK HERE