Consortium behind Arsenal share dealing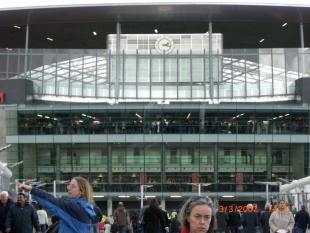 Clock End
By Gerald Keegan
April 1 2007
It has been revealed in the financial journal Economic Times that a consortium based on the Channel Tunnel Rail Link and the Olympics 2012 Project is behind the recent movement of Arsenal shares. The consortium has been formed with the intent of obtaining a majority share in the Emirates stadium.
The consortium main interest is not just football, but plans to get a share of the £3.3 billion that will be invested in London Olympics 2012. The Olympics will take place outside of the football season and therefore the stadium could be utilised for the event. They also have other plans to exploit the stadiumís resources throughout the year.
The plan is to make the Emirates available as a major venue for the Olympic Games. The Channel Tunnel Rail Link already has a station under construction at Corsica Street Highbury and Islington which is but a short walk from the Emirates, they also intend to open up Drayton Park station for more substantial passenger traffic.
The Channel Tunnel rail link extension is being extended from Kings X to Stratford; a major terminal is already being constructed at Highbury and Islington. It means that the East London Olympic Village and the Emirates will only be a 10 minutes journey apart.
Arsenal fans were promised that the new stadium would have the intimacy of the old Highbury Stadium, but on going to the Emirates many were surprised at how far the crowd is from the players, with a far wider track around the pitch than was envisaged. Other fans have also complained at the low level of the first ten rows of the lower tier. It is believed that certain directors deliberately factored this in so that the stadium could be "used for other purposes".
The consortium also intends to increase the hotel, shopping and restaurant facilities around the Emirates so that the area will provide rest and recreation for those using the new Rail Link. It will take only 2 hours 20 minutes from the Emirates to the centre of Paris. There will be a special booking in section for football fans using the service. Special fare deals will be offered to Arsenal fans using the service, with linked up Emirate flight deals.
Further development possibilities are that French football fans will be able to book an inclusive package of rail fare and match ticket. Indeed many will arrive home well before Arsenal fans that live in Essex and Kent.
The Consortium, and one or two of the present Arsenal board believe that the present club directors are far too conservative to exploit these possibilities. That a new board is required to raise the level of return on this massive investment. The link with Paris may explain why Wenger appears to have publicly dropped his objections to a corporate take over. The increased revenues could mean that Wenger would be given more money to spend on players.
For a large selection of Arsenal Books, DVDs, PC games AND MORE at Bargain Prices visit the Arsenal Times Store CLICK HERE
Discuss these issues in forum at the bottom of this page