Polonium with that pie? New Stadium Mystery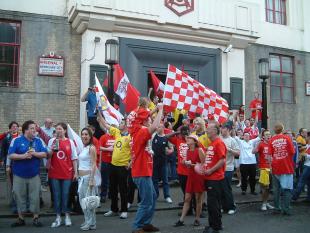 We won league WHL

By Boris Mellor
December 1 2006

There is no doubt that Saturdayís game is a big match, not because it is Spurs, but because Arsenal needs to avoid three defeats in a row.

I canít remember any of Arseneís teams losing three in a row in the Premiership. And it is important it doesnt happen now. His attempt to rest players backfired badly midweek and has added to the pressure.

Wenger has complained about the organisation of the fixtures which means that Spurs had their feet up whilst Arsenal played Fulham. Arsene is not the only manager to complain, Mourinho has also complained because Chelsea doesnít play this weekend. For once I can see his point, it is chaos, and could see Man U nine points ahead before the Russians play again. Could be a chance for us to catch up, but I wont be putting any money on that.

Talking of Russianís the Emirates could be the next to be searched for Polonium. The link to the mystery was reported in todayís Guardian:

ďPolice were last night closing in on a group of men who entered the UK among a large crowd of Muscovite football fans. The group of five or more arrived shortly before Mr Litvinenko fell ill and attended the CSKA Moscow match against Arsenal at the Emirates stadium on November 1. They flew back shortly afterwards. While describing them only as witnesses, police believe their presence could hold the key to the former spy's death.Ē

Elsewhere in the Guardian it was noted that:

ďLugovoi (ex KGB) is thought to have asked the exiled Russian oligarch Boris Berezovsky, an Emirates box holder, for tickets. Berezovsky's box was full and Lugovoi's party of eight received tickets to seats elsewhere in the stadium.Ē

Arenít you glad you donít sit with the prawn sandwich brigade? I just hope that my seat in North Bank Upper is safe. If anyone does get a dose of Polonium it will make Spurs last season stomach problems look like an afternoon tea party (It was an afternoon tea party Ė stop rambling. Editor).

I think we should get Osama onto the bastards, (The Russians, not Spurs) he defeated them in Afghanistan. I am sure he could sort them out again, and get the Clock End Clock put back up. He is very strong on tradition is Osama

Anyway I digress, the only mystery that concerns me here is which Arsenal will turn up for Spurs? No I donít mean will Henry play, but will a team that defends as a team and attacks as a team play? A team that doesnít give away a goal after five minutes. A team that is up for it.

Meanwhile the nose tappers who suggested that Henry was faking injury have been proved wrong as he is now at risk of missing the match with a reoccurrence of it. Nor would his absence be a blessing in disguise, as some suggest. That theory was put to rest against Newcastle, when everyone complained he was on the bench, but not before we went a goal down. Henry obliged by saving us from defeat.

Arsenal are on the best unbeaten run that any team has had over another. The run currently stands at 14 consecutive North London derbies without a loss for the Gunners. Does that reassure you? Why not discuss in forum below.

Did I mention we won the league at White Hart Lane?