Arsenal hit by back injury shock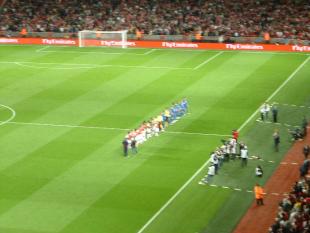 Ashburton Grove
By Royal Correspondent
October 26 2006
Peter Hill Wood had to be consoled today at the news that the Queen could not attend the official opening of the Emirates, due to a back strain. He has been looking forward to the visit for months.
Indeed it's rumoured that he had supported the new stadium on the grounds that he would get to show the Queen around. Apparently the Queen has been advised that there will be too much standing at this all seater stadium. Well done Clock End boys, the tradition goes on. Surely they could have provided a 5 star wheelchair to take her to the Diamond Suite.
It is such a tragedy that this magnificent woman who has absolutely no interest in football whatsoever, and has not attended a Cup Final since 1976, could not attend. Indeed her antipathy to football is so well known that the comedian Tommy Cooper set her up at the Royal Variety Show.
After the show all the stars, including Tommy Cooper, were lined up to be formerly introduced to the Queen and Prince Philip. After a few congratulatory words to our hero the Queen passed on to someone else - whereupon Tommy, forgetting all protocol, touched the Queen on her arm and said "Excuse me MaŽam, but can I ask you a question?". "Very well" the Queen replied. "Do you and the Duke like football?" Tommy asked. "Not particularly Mr Cooper" she answered. "Any chance I can have your Cup-Final tickets then?" said Tommy. Red faces all around and a faint smirk from the Queen!
However the disappointment is partly overcome by the fact that the Duke of Edinburgh will carry out the ceremony. And he is just what you need you at a multiracial club. He is well known for his multicultural wit, and the ability to make people of all ethnic origins feel at home. Here is just a small selection of his greatest quotes:
During a state visit to China in 1986, he famously told a group of British students: "If you stay here much longer, you'll be all slitty-eyed!"

More recently he joked that the answer to London's traffic congestion was to 'ban tourists'.

Referring to an old-fashioned fusebox in a factory near Edinburgh in 1999: "It looks as if it was put in by an Indian."

Speaking to a student who had been trekking in Papua New Guinea: "You managed not to get eaten then?"

Sadly the Arsenal directors have not had enough time to change the commemorative plaque, which proclaims that the Queen opened the stadium. Hopefully it can be replaced later with the correct legend "This Stadium was opened by a racist bigot".