Tough Task for Promotion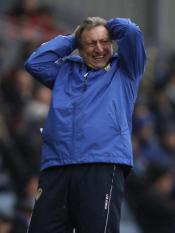 By Rich B
February 25 2013
Leeds United goalless draw away to Blackburn on Saturday did nothing to help a late push for promotion, leaving the Whites six points outside of the play off places and games running out.
Despite dominating possession, Leeds failed to created many chances on Saturday, although a clean sheet away from home was a much welcome bonus. Leeds haven't played well on their travels. picking up just 14 points from a possible 51 and it is their home form that still see's them in touching distance of that ellusive sixth place.
The side is playing better since the arrival of Warnock and Morison in the transfer window, but Leeds are missing a goalscorer since Becchio left, and Morison has not found his form yet. He opened his tally mid-week against Blackpool but as the side adjusts to the new players, points are being dropped and games are passing by.
It's by no means impossible. There are 39 points still to play for and it is the final third of a season where a team needs to find form as other will falter, but for Leeds to stand any real chance, they must start collecting points away from home and Saturday was a real chance that has now passed.
Leeds host a visit from Millwall on Saturday follwed by a visit to Leicester on Tuesday. Maximum points in both games should see us move closer to the top six with Leceister currently 8 points ahead in the fifth spot.
It's not over, but it's going to be difficult.
More Leeds United headlines
Leeds United Poll