Leeds - time for GFHC and Warnock to make some decisions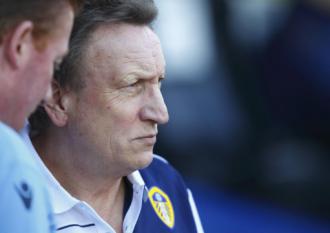 By Andy Baggott
February 13 2013
As Leeds slumped to another defeat and Middlesboro last night, it's clear that something needs to change. We are, at the moment, a rudderless ship. The long awaited takeover seems to have posed more questions than answers, and we seem to be stagnating in a sea of mediocracy.
So what's going on? The owners, GFHC have made some good, positive moves, and should be applauded for them – the return of the half price season tickets, the twitter and facebook pages, and the reduced price family tickets for a couple of games. These are great initiatives, and show they have listened to the fans concerns. But what else? 2 months in, and we've no real idea about who and what our owners are. I don't see any short, medium and long term plan. I see no vision. We know pretty much nothing. Are they in for the short haul? Have they got some serious money that can take us forward? No one seems to know. Now, I don't for a minute think they should be opening the clubs books for all to see, but let's get an insight. Let's see some passion. Give us some much needed hope. We are also now having to read about another potential takeover, with Adam Pearson rumoured to be involved with a failed takeover last week. GFHC were quick to put something on record (good), but again, it didn't really answer anything. A statement of 'we are here for the long haul – we are not selling to anyone, we have a 10 year plan' etc, put's it all to bed – we know where we are. What we got was a 'the bid was not accepted'. Does that mean we are for sale at the right price? Have they got enough money to take us on? Who knows…
Secondly, we've got an issue with the manager. We are playing some appalling football, and the results are not really adding up. Players brought in during the transfer window are not getting a look in – Hall not in last nights squad, Barkley sent back to Everton, and Tonge on the bench – again, begs the question of why did we sign them? His choice of substitutions is often strange, his selections can raise eyebrows and it's just poor to watch. On top of that, we have no idea if he's staying past this season. How can players commit to the club if they don't know who the manager will be? To be fair to Warnock, he has had to deal with a lot – the drawn out takeover had him operating with one hand behind his back for many, many months, and he stuck with us when many would have walked away. Again, a decision needs to be made – Warnock to stay, and stay beyond this season (rightly or wrongly), or go, and go now…
For years now, we have lurched from one disaster to another. We've seen countless managers removed, with the subsequent one seeming to take us even further backwards – calls for the heads of Venables, Reid, Wise, Blackwell, Carver, Grayson and now Warnock have been listened to, but hasn't changed. The removal of Bates was wanted by the vast majority of fans with protests and chants demanding his removal – and we're still no further forward – and possibly up for sale again.
On a very personal note – I would love Adam Pearson in – with a new manager. The club needs sweeping from top to bottom. Get rid of many of the players who are not up to it, and start again. Will I get my wish? I've been saying the same thing for 10 years, so not going to hold my breath…
More Leeds United headlines
Leeds United Poll