Defining a Season : Part 5 : 2004/5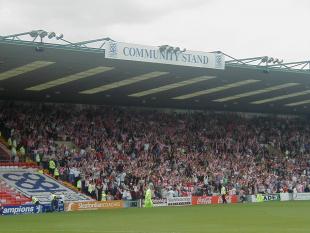 By Nathan Jackson
June 1 2006
This one just hurt, City lost in the playoff final again but this team, it was the Imps who controlled the final match. Southend scored from their only 2 shots on target and it just summed up a season that saw the Imps come close to automatic but never quite achieveing it
Well City's usual opening month crap-athon saw only one league win in August and saw City enter the relegation zone for the first time under Keith Alexander. City's first memorable moment of the 2004/5 season was the night after City had beaten Derby County in the first round of the Carling Cup and the draw for the second round was being made. It had been seeded meaning that lower league teams would be guaranteed of a game against a member of the Premiership or Championship. The lower league teams had been already drawn so then the words came out, "Lincoln City, will play away at *delay whilst ball being drawn*….Birmingham City." Oh My God, the Imps were going to Premiership side. Text messages started flooding in but I was so excited that this site had been updated within 5 minutes of the draw.
So City went to St Andrews on one Tuesday evening in September and matched the Premiership side for over an hour before 3 quick-fire goals from saw the Imps beat, although City did pull a goal back through Simon Yeo from the spot.
Just over 2 weeks later, City were at home to Kidderminster in a game that was a case of the side that hadn't won at home against the side who hadn't won away. Kidderminster eventually got relegated and from this display, it wasn't hard to see why. City hadn't won at home so far in the season, not even in the friendlies. City however made easy work of Kidderminster with Simon Yeo pouncing on a mistake from John Danby to shoot into the empty net. Good work from Martin Carruthurs saw Kevin Sandwith burst into the box and head the ball into the net without even being challenged. Sandwith provided the cross for the third which Gary Taylor-Fletcher headed in at the back post.
A week later, City made the trip to Oxford's Kassam Stadium and it was probably the most one sided 1-0 win in history. Simon Yeo had two goals disallowed for offside in the first twenty minutes before Gareth McAuley and Martin Carruthurs also had goals disallowed before the first half had ended. However, City did score a goal that was allowed before half time. Green burst through and put the Imps 1-0 up. In the second half, Martin Carruthurs headed the ball against the bar before Kevin Sandwith's 40 yard shot smashed against the bar. Oxford barely managed a shot in anger and this was a great win for the Imps, a very very dominant win.
A few months went by with nothing out of the ordinary happening, the usual FA Cup exit in the first round, Keith Alexander getting manager of the month and the usual playoff challenge before one Saturday afternoon in January. City travelled to Grimsby Town. A relatively disappointing 1500 Lincoln fans made the trip but Grimsby had sold out their ends. City were soon 1-0 up after Yeo half volleyed from close range. A close range effort from Yeo 15 minutes later put City 2-0 up. City were in firm control of the game until 2 quickfire goals from Grimsby in the second half, saw the game at 2-2 and Grimsby's fans went mental, that lasted for about 35 seconds. As soon as the game restarted, Gary Taylor-Fletcher passed from the right and Yeo smashed in for his hatrick goal. This was the first City hatrick in the league since Gareth Ainsworth's against Scarborough in 1997. Ciaran Toner rounded off the scoring.
Speaking of Toner, he was staking a reputation in Peter Gain's absence and was playing extremely well but then, reports came through of an argument between Toner and Richardson in training, REPORTEDLY, including racist slurs from both Marcus and Ciaran. Due for league reasons, I can't say exactly what was said or what Marcus did to Ciaran but the two, who were both first team regulars at that point with Keith Alexander, never played for the Imps again. It was a shame really because, if Toner had stayed, City would probably have gone up.
So we go to the last game of the season. City travelled to Yeovil. City were effectively in the playoffs, I say effectively because only a 15-0 defeat would have seen the Imps not go into the playoffs, however, Yeovil HAD to win to win the title. Yeovil won 3-0 thanks to 2 goals from Efe Sodje and Phil Jevons. However, that is not the moment; the moment is when Yeovil were being presented with the title. Just like when Bournemouth had beaten City to win the Playoff Final and Huddersfield had beat City to get into the playoff final, City fans stayed behind and applauded Yeovil's players for their magnificent season.
City faced Macclesfield Town in the playoffs and to be fair, both games were extremely boring. However, one man proved an unlikely hero. Gareth McAuley had only scored 4 goals all season, for a defender that wasn't bad but his last goals came in the 4-3 home defeat to Orient. 11 minutes into the first leg, Gareth McAuley ran inbetween Macclesfield's game of musical statues to head the ball into the net and even the keeper didn't look like he was trying to save the shot. The first leg finished 1-0 and 15 minutes into the second leg, McAuley scored again, with a header. Paul Harsley eventually pulled one back but the final whistle sparked massive celebrations in the Lincoln end and we were going to Cardiff again.
Our opponents were Southend, a team who had gotten 2 VERY undeserved points off us during the season with two 1-1 draws. This was a great chance for the Imps to go up because Southend had actually been poor for a fair bit of the season and were bottom in October. Now, City absolutely dominated the game. Southend barely got a shot off in anger in the 90 minutes and City even had a perfectly good goal disallowed. City however, despite their dominance of the game (and I don't care what any Southend fans think, you were dominated in the 90 minutes), City could put the ball in the net legally and it went to extra time and then it started falling apart. Before half time in extra time, City had taken off Green, Taylor-Fletcher and Yeo, our three strikers and were playing 1 attacker, a defender and a midfielder up front. The final substitution was made in first half injury time when Beevers came on. Southend sent in a corner and although Gareth McAuley cleared it off the line, it fell to Eastwood who smashed it into the net and at that point, despite 15 minutes remaining, we knew it was over again. They eventually made it 2-0 and Southend were promoted.
So there we have it, 5 years of moments, a financial crisis, a manager collapsing, a hatrick, 2 playoff finals and several impressive wins. Hopefully City will now eventually go onto win promotion this coming season.