Reaction to the first month of the season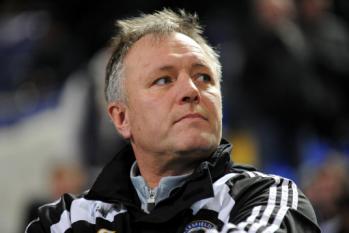 By Kate Jackson
September 1 2013
The first "reaction" since the website returned sees a reflection on the first month of the season. It's safe to say that I am heavily satisfied. There are very few Imps fans that won't be satisfied with how we have started the season and it's nice to write one of these reactions and have it full of positives for once, especially after four seasons of relegation battles.
When the fixtures were drawn out I was struggling to see where we would get more than 6 points, I thought we would beat Dartford, but at best getting draws in most of the other games, to say that I am delighted that we have gotten more than double my predicted tally is an understatement.
I will admit that Simpson wasn't my choice to be manager. I had nothing against his appointment so don't get me wrong, but my personal choice was Gary Brabin. Despite not being my first choice, I am now firmly in the pro-Simpson group. Although I have questioned his tactics on occasions, it's hard to argue with results. We have faced two of the title favourites and won, and in the case of the Wrexham game the 2-0 scoreline doesn't reflect our dominance of that game.

There is not one game where I can say that the opposition were better than us, which makes a nice change, and the only game that we lost (Cambridge) certainly wasn't a case of being overwhelmed and in all truth, they scored with pretty much their only worthwhile shot on goal.
One thing that makes a nice change is having competition for places all over the pitch, we have been able to rotate the squad and on not one occasion have we struggled because of the chances. All the strikers that are fit have been scoring, and again competition for places is rife. The team spirit seems fantastic and the biggest single positive for me, more than anything else, is that we aren't letting things go, we are chasing everything down and not giving the opposition time on the ball.
In the past the squad has been very easy to accuse of not really giving a shit, especially the squad that got us relegated, but that is something that I certainly can't accuse anyone of so far.
So the negatives, well, I really shouldn't use the plural for that as there is only the one. We keep the ball very well but rarely actually do anything with it. The amount of times we pass it backwards when there is a forward pass available is highly frustrating, but it has only caused us to lose the once so far, so it's only a minor thing, and these days it's nice that the only true negative is a minor thing.
Overall I think the table (left) will change a lot between not and the end of the season, there are teams at the bottom that won't be there come the end (Macclesfield) and there are teams at the top that won't be there after 46 games (Nuneaton and Southport), but hopefully we will be able to, at minimum, maintain our position. I would have bitten your arm off for fourth before the season started, although naturally now you want more and to say we could be top come Saturday at 5pm (dependant on other results obviously) says how different this season is compared to the last four.
THE MANAGER - GARY SIMPSON
As I said above, it's hard to argue with results, my one criticism is his constant use of the 4-5-1 system away from home. At home we have played 4-3-3....or at least a 4-3-1-2 system, and it has been successful, but at Woking and Cambridge we adopted the 4-5-1 and didn't even score in either game. Simpson then came out in a very defensive outburst, calling anyone who called the tactics in those gmaes as idiots. I think the fact that we changed to the normal 4-3-3/4-3-1-2 formation at Dartford and won says it all.
Simpson appears to be ticking most of the right boxes though and again, it's hard to argue against 13 points from the first six games, especially as teams who were tipped to be title favourites are all below us in the table.
BEST PLAYER SO FAR - DANNY ROWE
Rowe has impressed me more than any other player since he signed and appears to have the most technical ability at the club. In a squad full of endeavour, you always need that player with that little bit of extra skill, and Rowe ticks the boxes for me. That's nothing against the other players, but Rowe's shooting ability is impressive, regularly testing the goalkeeper from distance.
BIGGEST SURPRISE - NAT BROWN
Nat Brown was crap during his first spell and I really, really didn't want him back at the club. I have said since our Conference years that the players who were deemed as utter crap during our Playoff runs would walk into the side now....and Nat Brown is proof of that.
Brown is never going to win an award for his flair and he does still worry me a bit when the ball goes near him, but again it is hard to argue with our defensive record with him in the squad. Despite scoring an own goal against Forest Green, he has been near-flawless in defence, and whilst at first I think he was only getting in the squad because of injury, it is saying it all that he is keeping out defenders who would walk into most other sides in this division.
A LOOK AHEAD TO SEPTEMBER
After coming through what looked to be a difficult August on paper, we head into an arguably even trickier September.
It all starts with a home game against Salisbury, who haven't started their season overly well, so realistically we should be looking to make it 4 from 4 at home. However, after that things get a lot tougher. Barnet have made an excellent start to the season after relegation, and Southport have surprised many with their start.
A trip to Luton Town follows in what is one of the tougher games in the division, and the Imps were humbled by their Bedfordshire opponents last season, with the Hatters comfortably beating the Imps under Simpson.
A few days later and the Imps travel to Hereford, which is the site of David Holdsworth's final game in charge of the Imps. Finally the Imps have a home game against Hyde, one of the favourites for relegation.
The potential amount of points available is 18, I would be happy with anything in double digits.
PREDICTION
I am going to nail my flag to the mast and state right now, after just one month of the season, that the title will come down to either us or Barnet and it will be decided on the final day with the match between the two clubs at Sincil Bank.
View a Printer Friendly version of this Story.
Reaction to the first month of the season
theimps.ka (IP Logged)
01/09/2013 12:38
What do you think? You can have your say by posting below.
If you do not already have an account
Click here to Register
.
Re: Reaction to the first month of the season
01/09/2013 16:46
Can hardly compare Dartford and Cambridge, Woking was about not losing but Cambridge are top of the league and it was correct to go and try get a point. Win at home and draw away. I am pleased to see he will also be more risky against the smaller clubs away from home but I wont expect it against Barnet


---

Fundraiser for LCFC
Sorry, only registered users may post in this forum.