Premier League prima-donnas take note of Jake Sheridan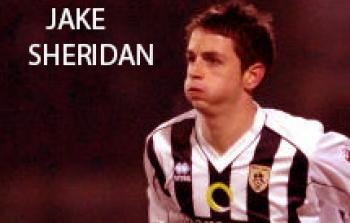 By Kate Jackson
August 24 2013
Lincoln City midfielder Jake Sheridan had an interesting day against Cambridge, not only making his first appearance of the season, but also proving that there are nice guys in football.
In an age of footballers being famed for the negative image they bring to the game, both on and off the pitch, Imps man Jake Sheridan today proved that some footballers do still care about those that they watch.
A few years ago Notts County used to do shooting practice right in front of the away fans and laugh when they hit someone and cause injury, including Lee Hughes once collapsing in laughter as his wayward shot his an elderly gentleman straight in the face, however, former Magpie Jake Sheridan certainly took a different approach.
In the warm up against Cambridge, Sheridan hit a shot well, well wide and high over the goal, sailing into the away end. The shot hit a small child quite hard on the side of the head and caused severe upset. Sheridan immediately ran over to the away end (a distance of 40 yards from where he was) to apologise to the young fan and his family. Furthermore, after the game Sheridan returned to the family and gave them his matchworn shirt as an apology.
Whilst this isn't a major news story, I wanted to share this to show that there are still genuinely nice people in football.
Jake Sheridan, we salute you.