Defining a Season : 2007/8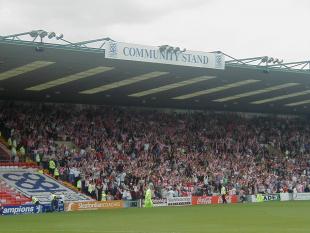 By Nathan Jackson
May 13 2008
2007/8 will be a season that will go down in the memory for all the wrong reasons, the only good thing really being that Peter Jackson became Lincoln City's manager. City spent most of the season in the relegation battle and sacked a manager mid-season for the first time since 2001. It was also a season in which City conceded 4 or more goals on 10 occasions. Lincoln City's 2007/8 season was a nightmare for the most post. It all started off with back to back 4 goal maulings to Shrewsbury and Doncaster Rovers. The defensive frailties hadn't been addressed over the summer months and it looked as though it was going to be another long hard season. However, within 180 minutes of football and City were 4th in the League after wins against Mansfield and Accrington.
That Accrington game took place on August 25th and the Imps wouldn't win again for a day shy of three months. The run slowly saw us slip down the table and into a relegation battle. John Schofield and John Deehan were sacked from their roles after a 4-0 thrashing at MK Dons and 2 weeks later, City had gone bottom of the table exactly a year after going top.
Peter Jackson was a popular choice as the new Lincoln City manager and he beat off competition from Brian Little. Jackson's first game in charge was a controversial game against Chester. It wasn't helped that Chester turned up late and the game didn't kick off until 8:40pm, but City still dominated the game. Midway through the second half and Chester were awarded a penalty for a challenge that only the referee saw and Chester stole a victory at Sincil Bank.
It took another 3 weeks for Jacko's first victory and that came against a Notts County side who weren't in good form themselves. City again dominated and took the lead through Ben Wright. Gary Silk equalised for the visitors before Frecklington scored late on to give the Imps a more than well deserved victory.
2 months went by and the Imps were inconsistent to say the least. Every win was followed by a defeat and we couldn't find ourselves away from the drop zone. A home defeat against Mansfield saw many fans convinced that City were heading for the drop. 3 games and 3 wins later and the worst news of the season came when Peter Jackson revealed he was diagnosed with throat cancer. It stunned everyone at the club and it was arguably the most memorable moment of the season (for all the wrong reasons).
Jackson left for treatment after a 1-0 win against Wycombe. That was City's 7th win in 9 games and effectively secured our status in the division for another season. City were now under the caretakership of Iffy Onuora and the performances and results reverted to those of the Schofield days. City played 5 games under Iffy in March and conceded 14 goals, not exactly a brilliant record.
Safety was secured after a 2-1 win at Chester City and the season ended in typical fashion a few weeks later, with City losing to Wrexham. 2007/8 will live long in the memories for all the wrong reasons.