Outclassed, But Other Results Help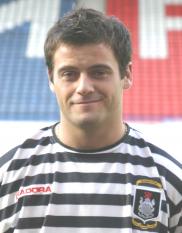 Carroll (qpfc.com)
By The Spider
March 14 2005
Saturday, 12th March, 2005 Gretna 4 Queen's Park 0 (Bells Scottish League – Third Division) (picture from qpfc.com) This was a game where little went right for Queen's, but at least they remained in 4th place thanks to results elsewhere.
This game failed to live up to its pre-match expectations with Gretna enjoying a far easier game than previous games this season had indicated. Whether it was due in part to an extremely bumpy pitch, or simply due to good tactics by Gretna, Queen's simply were never at the races and were quickly closed down before they could get their passing game going.
Innes headed wide in the opening minute as the near one-way procession began. Deuchar should have opened the scoring in the 11th minute, but the prolific striker inexplicably drilled his shot wide went right in front of goal. The inevitable was only delayed by a further two minutes though when Bingham played the ball over the top for Baldacchino to scamper down the right wing, before crossing to the far post where Gavin Skelton was unmarked to score from close range.
Bingham volleyed narrowly past in the 15th minute before Innes did likewise from close range. However David Bingham made no mistake in the 22nd minute when he headed another Baldacchino right wing cross over David Crawford and in off the underside of the crossbar.
Then Deuchar headed over from a corner before David Bingham volleyed home from close range, this time from a Deuchar right wing cross.
A frustrated Alan Trouten was booked in the 28th minute for a foul on Baldacchino, and David Crawford saved Skelton's direct free kick.
Ross Clark forced Mathieson into his first save of the afternoon after 31 minutes with a snapshot from just outside the box, and a minute later Richard Sinclair was also shown a yellow card, also for a late challenge.
Deuchar directed a free header wide, and then Bingham was denied his hat trick by a good save from Crawford.
Any hopes that Queen's had of making a second half comeback were killed off within seconds of the restart when Bingham nodded on a Baldacchino cross for Gavin Skelton who fired the ball past the helpless Crawford.
Ross Clark was booked for a deliberate trip a minute later as Gretna continued to turn the screw as they sought to record their 100th League goal of the campaign. They nearly got it too in the 52nd minute, but fortunately Gavin Rushford got back in the nick of time to clear Skelton's low shot off the line.
Paul Harvey curled a direct free kick narrowly wide in the 55th minute, and then McGuffie fired over from close range. Substitute Graham sliced wide from a good position in the 69th minute, before Collins hooked wide from a good position.
David Crawford then held a free kick from Baldacchino before the beleaguered Queen's 'keeper made the save of the afternoon, flinging himself high to his left to push away a rasping shot from Graham which seemed destined for the postage stamp corner.
There were very few positives to be taken from this very one sided contest but, avoiding losing the 100th goal apart, the only news of cheer came on the journey home when it was learned that all four of Queen's rivals for the desired 3rd place slot had also lost ground.
So, with no more games against Gretna to endure, Queen's fans can now hope that their favourites produce some decent form in the run-in. Barring their way this coming Saturday are the enigmatic Montrose who can be dross one week, yet impressive the next. Given that both teams now share the same points, another win in Angus next week is something of a priority, especially considering Queen's poor home form this season where points seem harder to come by than on the road.
ENTERTAINMENT VALUE :  3/5
STAR SPIDER(S) :  Frankie Carroll (fought a lone battle, but never gave up)
QUEEN'S PARK : David Crawford, Alan Trouten (Gavin Rushford - 46), Danny Ferry (Shaun Molloy - 68), Richard Sinclair, Jonny Whelan, Paul Harvey, Stuart Kettlewell, Tony Quinn, Ross Clark, Frankie Carroll, Mark Ferry (Ally Graham - 68)
Subs (not used) :  Alexander Cowie (G/K), Brian Blair,
Scorer(s) : none
Booked : Trouten (28 - late challenge), Sinclair (32 - late challenge), Clark (47 - professional foul)
GRETNA : David Mathieson, Derek Collins, JamieMcQuilken, Stevie Tosh, Chris Innes, David Irons, Ryan Baldacchino, Ryan McGuffie (David Nicholls - 67), Kenny Deuchar (David Graham - 60), David Bingham, Gavin Skelton
Subs (not used) : Alan Main (G/K), Derek Townsley, Mark Birch
Scorer(s) :   Skelton (13 & 46), Bingham (22 & 24)
Booked : None
REFEREE : Mike Tumilty **   (* = inept, ** = poor, *** = mediocre, **** = good, ***** = excellent)