Betfred Cup - Airdrie 3 - 1 Stranraer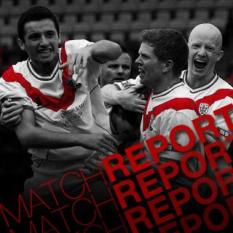 By Stomp Admin
July 18 2017
Speaking to people around about me tonight at the Airdrie Vs. Stranraer match it seems that most of us are in a concensus that we are going to have to take one match at a time this season, enjoy the wins when we get them, accept the draws and suffer the loses in good grace and then move on to the next match. Tonight was one of the nights to enjoy and although the purest may think we shouldn't be celebrating a win against Stranraer the realist among us are going to accept that we are where we are and we have to deal with it.
I'm not going to pretend that I went to tonights match holding out much hope, especially as we were up against a team we struggled against in all four matches last season.
Airdrie lined up :- Ferguson, Stewart, MacDonald, Cairns, McIntosh, Conroy, Leighton, Fitzpatrick, Ryan, Russell, Brown
Subs :- Higgins, McLaughlin, Thomson, Kerr
Stranraer lined up-: Belford, Robertson, Dick, Barron, Lang, Turner, Thomson, Hamill, Woods, Wallace, Okoh
Subs: Currie, Neill, Bell, Agnew, Anderson, McGowan, Stoney
The start of the match was pretty even and it took 29 minutes for Airdrie to break the dead lock Cammy Russell scoring from just inside the penalty box. Five minutes before the end of the first half Russell has another chance but Belford gets his hand to it to keep the game at 1-0.
The second half is under way and bgins much like the first until on the hour mark Belford sees red after he swings an elbow and catches Andy Ryan, a straight is shown to the Stranraer keeper and his replacements first job is to pick the ball out of the back of the net from the resulting penalty. Andy Ryan makes it 2-0.
Five minutes later Russell is on the score sheet once again as Andy Ryan lays the ball off in from of him for a simple tap in 3-0 to the Diamonds and from here you would think Stranraer have no where to go but on the 80th minute Stranraer pull one back to make it 3-1 from a corner Scott Robertson heads home.
On 85 minutes Stranraer saw thier second red card when Barron brought Andy Ryan down in the box, yes it should have been a penalty but the lines man and referee conspired to say it had taken place outside the box.
So Airdrie in our opening match of the 2017 - 2018 season, the players did what they had to do to win the match and tonight we celebrate.