Death Disco 2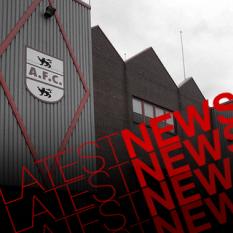 By Stomp Admin
June 9 2017
Today - Friday 9th June 2017 - Mark Allison would have celebrated his 50th birthday and a year to the day of his funeral on Saturday 1st July we will celebrate his life and passion for his team Airdrieonians, Adidas footwear and music with Death Disco 2 at the Excelsior Stadium with the full support of his sister Julie Timmons.
It is our objective to grow the event year on year to showcase up and coming musicians and where possible get those established acts to play for us to grow awareness of Airdrieonians Trust support of Cancer Charities and other social needs within the community.
Over the past years we know that there are many who have lost loved ones to Cancer. As part of our celebration of life should you wish to have someone you have lost recognised, we will be happy to have a photograph posted at the event. Ultimately, this is a celebration of lives. Please contact any member of the DD2 team.
Mark Allison was diagnosed with Pancreatic Cancer in November 2014. Given six months to live and he set out to raise as much money as possible and awareness in the time he was given. His commitment and determination carried him through eighteen inspirational months in which he raised over £80,000 through his F**k Cancer campaign all centred around his passions.
Mark arranged many events and others in conjunction with the Airdrieonians Supporters Trust. His fund raising exploits included Sammy's Shelter, a covered area for disabled fans at the Airdrieonians Stadium. A fund raising concert in Glasgow's O2 ABC, "Marky says F**k Cancer", an auction of Adidas footwear donated from all over the world and many other events. Mark was also featured on Soccer AM as "Fan of the day" and built a great relationship with the host Fenners.
His last fund raising event was less than a month before he passed away. A charity walk through Airdrie from the Stadium to St Andrews Hospice and Maggies Centre, all key sites during his fight with cancer.
This route will be walked once again - in reverse - prior to Death Disco 2 to raise money and awareness and we encourage anyone who wants to participate to wear their Airdrie shirt, Adidas clothing or F**k Cancer t-shirts, everyone is welcome departing Maggies Centre Airdrie at 2pm. T-shirt and fund raising merchandise will be available to buy shortly.
Since Mark left us there have been many new initiatives supporting local charities and social needs including Maggies Centre, Pancreatic Cancer Scotland, St Andrews Hospice, Moira Anderson Centre and Airdrieonians Football Trust establishing the first Sensory room in a Scottish football Stadium. Moving forward fund raising will not only support cancer charities but we aim to build a portfolio of community based programs for the people of Airdrie and not just supporters.
Through the past twelve months there has been a broad variety of fund raising. Mark was recognised by Adidas through the efforts of Bobby Gallagher and Archie Harkness and their participation on the Adidas forum where a limited edition unique Mallison SPZL was issued and snapped up with 24 hours. We believe that this has been Adidas first non sportsman issue. These guys have raised even more money through limited edition pin badges and t-shirts, a fantastic contribution.
Airdrieonians Football Club accepted the Trusts offer for season 2016/17 to accept sponsorship of the home strip with the iconic picture of Mark featured. The news and interest throughout the world that our wee club had chosen a fan, I guess not just any fan to be the sponsor spread like wild fire. A club that traditionally sells around 150 shirts has this past season and managed by the clubs Commercial Manager has sold nearly 700 to not just fans but people who recognise Mark's remarkable work. In addition to this the shirt was a full program feature on Sky 1's Soccer AM.
Ross Owen, Producer and Presenter of online radio station Black Sky Radio through his connection in the showbiz world has managed to get a number of celebrities including Ricky Gervais, Tom Hanks, William Shatner, Jaimie Lee Curtis and many others to sign the iconic shirt and raise a fantastic amount of money.
Alan Stirling who is wheelchair bound has also made contributions through his mad Facetime incarnation "NEEBS TV".
The Sensory Room has been one of the latest developments. The first club in Scotland to consider the needs for a calm environment for autistic children. Airdrieonians have led other clubs to install similar facilities.
There are so many creative ways and initiatives we are getting people involved in. Our incredible wee club is leading the way and we are raising awareness and financially supporting our community. The single objective is to grow and help more people by doing good things and we are grateful for the support that is given by you and we welcome everyone to join us. Every little bit makes a big difference.
Tickets are expected to go fast. Details are on the poster, but will go on sale on the main concourse at the stadium from 11-1 during tomorrows' Sensory Cup Tournament.
F**K CANCER.
Tickets and sponsor sheets will be available at the Sensory Cup tourney tomorrow. We will announce when they are in the Bon Bon.
People can do the march....go to the gig...or hopefully, both.
As much as this is a nod to Toaster and inspired by him, this is a celebration of the lives of fans lost over the years. Everyone is invited to remember past friends and family.
Adidas....Airdrie Strips....Fuck Cancer T shirts essential.
Sandy Basu is the main point of contact!