Prediction League Game 34 - Airdrie Vs. Alloa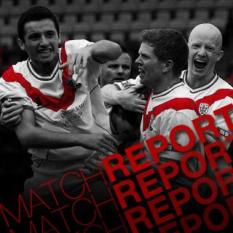 By Stomp Admin
April 22 2017
Three games to go as Airdrie host Alloa and the fight continues for a play off Spot. The three games we've played against Alloa have all ended 2-1, two of them were wins for the Diamonds and one for Alloa. IN the first meeting of the season Andy Ryan and Ryan Conroy scored for the Diamonds with a consolation coming from Grieg Spence, it was a 2-1 away win for Airdrie. In the return home fixture Airdrie again won 2-1 this time Jim Goodwin gave Airdrie the lead with an own Goal and on the stroke of half time Andy Ryan gave us a 2-0 lead, Scott Taggart got Alloa's consolation. In the final meeting Alloa won 2-1 Andy Graham scored the two for Alloa with Iain Russell getting Airdrie's goal.
Prediction League
Once agiain the inconsistancy of Airdrie seen us get a great win against Brechin only to throw it all away against Stranraer last week but we move on to the next game and focus on Alloa, nine goals for three games against Alloa whose betting on a boring nil nil?
Prediction Stats Airdrie v Alloa

Home Win:

50% [13]

Away Win:

26% [7]

Draw:

23% [6]

3-1

11% [3]

2-1

19% [5]

2-0

11% [3]

1-3

7% [2]

1-2

11% [3]

1-1

7% [2]

1-0

7% [2]

0-2

3% [1]

0-1

3% [1]

0-0

15% [4]
The scores are once again all over the place but a 2-1 home win is the favoured score line.
Chris Mac still hasn't been knocked off the top spot however Diamond Sab has closed the gap to two points.
Prediction League Standings 22 Apr 2017

Pos

User Name

P

W

D

L

F

A

GD

Pts

1

Chris Mac

33

4

12

17

31

66

-35

24

2

Diamond Sab

33

4

10

19

25

79

-54

22

3

Carlukediamond

33

2

15

16

23

71

-48

21

4

CAB

33

4

9

20

28

79

-51

21

5

oldspunker

33

4

9

20

25

87

-62

21

6

DiamondF16

33

3

12

18

19

81

-62

21

7

wilkman2112

33

3

11

19

24

74

-50

20

8

The Man in Black

33

3

11

19

27

83

-56

20

9

weigh cider

33

4

7

22

27

80

-53

19

10

Mocklin redz

33

2

12

19

28

74

-46

18

11

Diamond Forever

33

2

11

20

20

71

-51

17

12

StoneDiamondRugs

33

3

8

22

24

78

-54

17

13

Dougie Lawries Ears

18

4

4

10

11

44

-33

16

14

Paddyc

31

3

7

21

20

76

-56

16

15

Deadly Diamond

33

1

13

19

13

85

-72

16

16

Snowsttorm47

33

1

13

19

18

95

-77

16

17

thunderbird

33

2

9

22

27

67

-40

15

18

diamonds77

33

2

9

22

17

94

-77

15