Prediction League Wk 3 - Airdrie Vs Forfar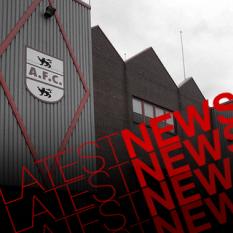 By Stomp Admin
August 7 2015
Airdrie play Forfar Athletic in our first home game of the 2015 - 2016 season, a game that I feel has some significance behind it. All Airdrieonians fans know what happened in the close of season 2001 - 2002 but it's not those terrible moments I'm referencing.
The following picture shows Stephen Docherty scoring Airdrie United's first goal against Forfar.
The 2003 season ended in Stranraer for a few minutes at the death of that season we thought we were promoted only to have it stripped away in the dying minutes by Hamilton. So the significance; Tom Wotherspoons connections with Hamilton, Forfar in the first game of the season and the hopes of a fan base risen to knew levels.
Airdrie will once again be without Marc Fitzpatrick and Jim Lister, for me it's a tough one to call and by the looks of the prediction league others aren't finding it any easier.
Prediction League
Prediction Stats Airdrie v Forfar

Home Win:

48% [19]

Away Win:

5% [2]

Draw:

46% [18]

2-2

7% [3]

2-1

23% [9]

2-0

20% [8]

1-2

2% [1]

1-1

12% [5]

1-0

5% [2]

0-1

2% [1]

0-0

25% [10]
Airdrie fans are split between a Home win or a Draw with only two predictors opting for bonus points if things should go ary.
As always if your name is not on this list you will not be entiltled to win any of the prizes.
Click Here for the list and details of how to enter
Under 16 Match Day Free Tickets
Don't forget if you plan on using your U'16 free ticket card you must collect a match ticket from the Airdrie Supporters Trust in the Joey Rowan Suite, please consider that the guys giving out the tickets are fans and want to see the game too, so get there early and enjoy the pre-match entertainment.