The Stomp @ Excelsior Stadium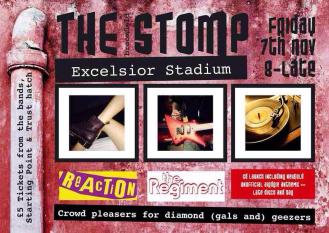 By Stomp Admin
September 24 2014
Reaction/The Regiment and AWOL are bringing you a night of music madness!! Get your dancing boots on and get down to Broomfield on Friday the 7th of Nov 7.30 pm
This is the official launch night of reactions brand spanking new cd which will have terrace Classics...The Broomfield Stomp and I can't help falling in love with you!!

There will be CDs,merchandise and plenty of ml6 to be bought so get it booked off in work,in your diary,book a babysitter,Whatever it takes do not miss this!!
Tickets from the bands,the trust hatch and from starting point...5 quid for 3 bands.... BARGAIN!!