Blues get what they deserve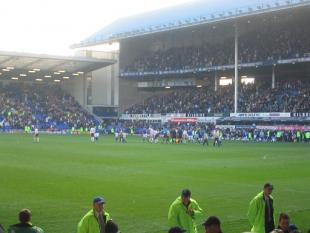 By Chris Kirwan
November 11 2003
Everton slipped into the relegation zone thanks to an inadequate performance at Ewood Park. The Blues have only Wolves and Leeds between them and bottom place.
In a similar performance to the televised loss at Middlesbrough the Blues were pathetic in an abject first half display.
With an untried duo of Yobo and Clarke at the heart of the Everton defence Moyes must have been hoping for a quiet start to the game but the Blues were on the back foot from the very off. The Everton defence seemed to forget their responsibilities and there were a wave of unmarked Blackburn players in the Everton penalty area.
With such slack marking an opener was inevitable and it came from Markus Babbel. Poor marking and weak clearing led to Babbel being left with a routine finish 6 yards out.
The former Liverpool man nearly added to his tally when he was left with another free header minutes later, but the German was denied by a smart save from Nigel Martyn.
But Blackburn didn't have to wait long to add to their opener. This time it was Dwight Yorke's turn to be left with a free header, and he obliged with a simple header from Brett Emerton's cross.
In the first half the Everton midfield struggled to stave off their Blackburn counterparts, and the distribution from the back gave little hope for Radzinski and Campbell up front. Moyes conceded: "It was poor. It looked as if every time they crossed the ball into the box we were going to lose a header."
The Blues improved dramatically in the second half, with the introduction of McFadden and Unsworth making an impact. McFadden was keen to offer himself up as an option, and the distribution from the back was much more assured.
It was McFadden who gave the Blues a glimmer of hope. After exchanging passes with Campbell he put in a cross that Brad Friedel deflected into Radzinski's path. The Canadian made no mistake.
The Blues had the better of the second half, but never really controlled it. Unsworth spurned a good chance late on, and Jeffers hit a fine effort just over the bar, but the Blues never really deserved anything from the game.
While the performance against Chelsea gave some hope, performances such as these bring real panic. The Blues seemed to lack heart in the first half, something that side like Leicester and Wolves have in abundance. As Moyes said after the game: "Football's about having great technical abilities but a lot of it's about having heart."
More Everton FC headlines
Everton FC latest threads
Everton FC Poll