Watson pushes Leeds further into the mire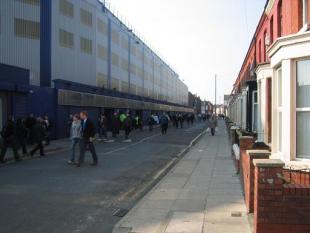 By Chris Kirwan
September 28 2003
The Blues hit three first half goals for the second time this season as Leeds collapsed yet again. The Blues dominated a poor Leeds side in a convincing 4-0 victory.
The man who profited most from Leeds' deficiencies was Steve Watson. The Geordie made up for several under-par performances by notching a hat-trick, with Duncan Ferguson the other goal scorer in a 4-0 thrashing. Moyes made several changes from the side that lost to Middlesbrough, allowing McFadden and Ferguson to continue after good showings against Stockport and giving Carsley and Unsworth recalls. Nigel Martyn faced his old club.
But it was Watson who received glowing praise from Moyes who told www.evertonfc.com: "He was fantastic. He deserves credit for his goals, because I had to tell him that he hadn't been performing as well as he should do and he certainly answered me today.
"All of his goals were different, all very well taken and if somebody else had scored the second one, maybe a more high profile player, I'm sure we'd be talking about it for days and weeks to come".
It was a relief for the Blues take a few chances after missing plenty at the Riverside. Moyes stated: "I think that we've played a little bit like that in games and not finished the chances off, but today, I think we took our opportunities."
"Goals give you confidence and that is what we did out there. Jamie McFadden had a terrific debut and Steve Watson was outstanding."
Peter Reid was disillusioned with his team's showing: "We were second best in every department. There was no passing, no tackling from anyone in my side, there was no desire to work, or play – and Everton had all that.
It was a game that the Blues had to win, and for all the faults with the Leeds' defence, the Blues convincingly won all three points. The Blues went up into the top half of the table, and a routine victory combined with a Liverpool loss made for a perfect Sunday afternoon. The win gives Moyes a platform to build on, and should they exploit another side in turmoil by getting a rare result at White Hart Lane next week the Blues will be back to top sections of the division.
More Everton FC headlines
Everton FC latest threads
Everton FC Poll