The Chelsea of the North.....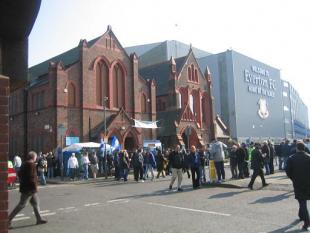 By Chris Kirwan
September 1 2003
An eventful deadline day saw the Blues sign four players, while one headed in the other direction. Arrivals came in the shape of Franny Jeffers, Nigel Martyn, James McFadden and Kevin Kilbane, while Mark Pembridge left to join his compatriot Chris Coleman at Fulham.
Moyes finally added the keeper he has been craving, signing Nigel Martyn for a nominal fee. Whether the Cornishman will present a real threat to Richard Wright, or whether he is there merely to cover for any of Wright's trips to the loft is yet to be seen. But Moyes showed early in his tenure at Goodison that he is more than happy to swap his keepers should they under-perform.
An evident theme was that Moyes has aimed, with the exception of Nigel Martyn, to bring in players with plenty of potential. Moyes told www.evertonfc.com: "We've not been able to attract the players that at present who would go right into the team because of resources, so we've gone for potential - with the hope that the potential will be fulfilled and become good players".
The Jeffers deal reflects Moyes' doubts over whether the duo of Ferguson and Campbell can put together any runs of fitness. Saturday's loss to Liverpool highlighted Everton's lack of a natural finisher, and Jeffers will add this to the squad. Jeffers never really got the chance to prove he could be a "fox in the box" at Highbury, and Moyes may be the manager to the tap into the talent that is clearly present.
The swapping of Pembridge for Kilbane may turn out to be a shrewd bit of business, and could signal the retreat of Naysmith to left-back with Kilbane ahead of him. Pembridge made a fine start to the season (particularly against his new club), but the bid of £500k rising to £750k was too good for the club to refuse.
The introduction of Kilbane will add some pace to the Everton midfield, and will present more of a threat on the break. The Irishman scored at Goodison last season, and hopefully he will go on to prove those who have already expressed their doubts wrong. One exchange that has been made by the move is that Everton have lost their main set-piece taker, and acquired an aerial threat.
Moyes has signed potential in James McFadden. The Scot has shown glimpses of brilliance in his displays for Scotland, but questions remain over his temperament. A big move has been touted for a long time and now that it has occurred he will need to knuckle down, but hopefully training with the likes of Rooney, Radzinski. Moyes told www.evertonfc.com : "His ability is excellent. But it's up to him to see if he can handle the step-up in quality. He's not just one for now, he's one for the future."
Finally one has to assume that the Davis deal will be completed in January when the 'midfield general' has proved his fitness. Hopefully today's acquisitions are laying the foundations of a side that Davis can prosper in. Moyes is finally moulding Everton into his side, and has brought in several players who may push Smith's signings out in the near future. After craving signings for most of the summer there may be plenty on show come September 13th. Moyes has done extremely well to strengthen and develop his squad on a limited bidget.
More Everton FC headlines
Everton FC latest threads
Everton FC Poll