Martyn/Savage bids & Cobblers in for Clarke?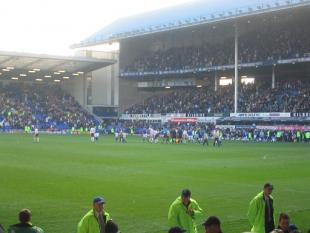 By Chris Kirwan
August 31 2003
With the transfer window set to be shut until January there is only a day until the end of rumours for a few months. But then again the Sean Davis saga could run for a while yet....
Preseason Moyes made it clear that he was after some cover for Richard Wright, and it seems that a short-term option has been taken with a move to obtain Nigel Martyn. The keeper who turned down the Blues in favour of Leeds in July 1996 is set to sign an extended loan deal after finding his chances at Leeds blocked by younger keepers. Moyes is quite rightly reluctant to place his trust in Paul Gerrard. Gerrard is on loan at Sheffield United, and Neil Warnock revealed that Everton are subsidising part of his wages to make the deal possible.
Martyn's experience will be valuable to Richard Wright and Iain Turner, but Martyn will not be content with sitting on the bench passing on advice to his colleagues. For the first time Richard Wright will be faced with a situation at Everton where he has to perform for fear of being replaced. Hopefully this will bring the best out of Wright.
The official Birmingham City website states that they have been contacted by Everton about the availability of Robbie Savage. Paul Peschisolido's wife said: "'The offer for Robbie was derisory to both the club and the player and has been rejected.".
While Savage is undoubtedly a tit, he is a player who would improve the Everton midfield. The Everton midfield were slow to pressurise the Liverpool midfield as the game progressed yesterday, and it's hard to imagine Robbie Savage standing off Steven Gerrard and letting him dictate matters. Being from Leicester I have first hand experience of the affection felt for Savage by the fans of the club he plays for, and I'm sure if the Blues signed him the fans would warm to him. But if Everton do manage to arrange a deal for Savage they should include a clause in his contract that he gets his Armani tattoo removed.
Meanwhile the Northampton Town's boss Martin Wilkinson has spoken of his renewed interest in Peter Clarke. The 'Chelsea of the lower leagues' are short of cover at the back with injuries to defenders Chris Willmott and Ashley Westwood, so may look to get Clarke on loan. The Cobblers Rivals site reported on Wednesday that Wilkinson stated: "Maybe if Peter is not in David's plans for the first team then he may sell him to us for a reasonable price, or he might even let him come out to us on loan. We'll have to see."
It certainly seems that Clarke is unlikely to break into the Everton side. Despite Stubbs and Yobo looking uncertain at times, the option of David Weir still remains Moyes' contingency plan. With Stubbs and Weir over the age of 30 the hope remains that Clarke could break through to the side, but in reality Moyes is unlikely to place his trust in a partnership of Yobo and Clarke. Of course Moyes could let Clarke go on yet another loan, but you have to doubt whether Clarke and Osman will ever be up to the quality of Premiership football if they are continually allowed to go out on loan. With both players entering their early 20s perhaps they need a fresh break.
A move to Northampton would be a good one for Clarke. They are hopeful of promotion from Division 3, and Clarke would be able to forge a partnership with another promising English centre-back who was unable to break through in to a big side's team in Paul Reid. Clarke scored against Northampton when on loan at Port Vale, and would be a welcome addition to their promotion bid. And after causing a few Northampton eyebrows to be raised with a tongue-in-cheek rumour of Paul Harsley being chased by Moyes, I wonder whether a deal can be sorted out for the much-maligned Paul Trollope after his excellent start to the season. If Birmingham are reluctant to part with their Welsh international perhaps Northampton would allow us to have theirs?
More Everton FC headlines
Everton FC latest threads
Everton FC Poll