Watson level with Ruud in the golden boot battle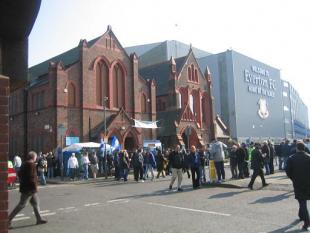 By Chris Kirwan
August 26 2003
The Blues gained a valuable away point, twice coming back to equalise after conceding penalties. The Blues are usually poor on their travels to London, so a point away to a smart Charlton side is a good effort.
Moyes made no changes to the side that defeated Fulham on Saturday, the solitary change being on the bench with Hibbert replacing Osman.
I wasn't at the game, but most sources seem to think that a draw was a fair result. Charlton scored through two Jason Euell penalties. The first was conceded by David Unsworth, the second by Joseph Yobo.
Moyes contested both penalties, telling www.evertonfc.com after the game: "After my first viewing I felt they were both penalty kicks but after having seen them again, I believe that David Unsworth certainly gets a piece of the ball, which doesn't always mean that it's not a penalty but he definitely diverts the ball.
"Having looked at their second penalty I think that the ref could either have given a penalty kick or booked their player for diving. So I think you could say that we were a bit hard done by in both cases, but that's what happens and it's hard when you're away from home"
But the Blues responded rapidly to going behind for the first time. Steve Watson latched on to a Pembridge through ball to score for the second successive game just two minutes after Euell's openener. The Geordie has an eye for goal that went missing when shoved up front by Walter Smith, but his knack for chipping in with the occasional goal is one of the main reasons for his continued selection on the right side of midfield.
Wayne Rooney opened his account for the season to level up the game for the second time when he controlled smartly before slamming the ball past Dean Kiely. It was a top notch effort, and hopefully only the warm up for Saturday lunchtime.
Moyes feels his team are playing well, stating on www.evertonfc.com: "I thought we played well all night and we created chances in both halves, but we lost two penalty kicks and kept coming back and if any side on the night deserved to win it was us."
The Blues are back at Goodison next, and with any luck they will maintain their 100% home record. Of course Houllier already has a potential excuse in that his "pliers" had less of a rest than their opponents. If the Blues can keep picking up the odd point or three on their travels, while winning their home games then there's no reason why it can't be another season of 'overachieving'.
**After the match Moyes told Sky Sports that a bid has been made for Barry Ferguson. He didn't state how much the bid was, but Blackburn hold more financial clout. Maybe Kenwright can put forward a deal combining wiping the slate clean for money owed for Ball, Rangers getting Paul Gerrard and as many tickets as Alex McLeish could possibly want to "Les Mis".**
More Everton FC headlines
Everton FC latest threads
Everton FC Poll