Rumour Tracker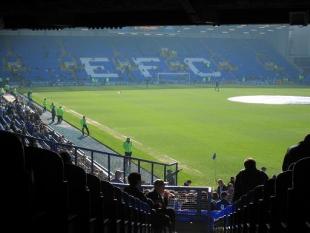 By Chris Kirwan
September 7 2003
Rumours come thick and fast, so here's a dateline to see which player is latest to be "Goodison-bound" and the ridiculous transfer links of the past………
September 7th: Duncan Ferguson and Nick Chadwick. The Peole reckon that both players are on their way out, Duncan permanently and Chadwick on loan. "Big Dunc dumped by Blues"
August 25th: Barry Ferguson. Sean Davis is undergoing a medical, but Moyes has also declared that he is interested in the Rangers skipper. "Moyes confirms Ferguson interest"
August 22nd: Phillipe Delaye and Gerardo Torrado. Both midfielders are to train with the Blues.
August 12th: French Strikers. A couple of sites link Everton with Tony Vareilles and Cyril Chapuis, though one of them is Planet Football. "Toffees lead Chapuis hunt"--"Vareilles for Ever"
July 26th: Robbie Savage. Moyes missed out on Savage last year, but has made another inquiry according to Skysports. IcBirmingham reckon he's going nowhere. "Robbie going nowhere"
July 26th: Kevin Kilbane. Ananova report on stories that Kilbane could be set for a cut-price move to Goodison "Moyes wants Kilbane"
July 17th: Gavin McCann. If Sunderland lower their price Moyes would be interested. "McCann Targeted" (McCann's gone to Villa.)
July 15th: McManaman. Moyes tells the official site that he isinterested in signing him. "Boss Confirms Macca Interest"
July 4th: Sean Davis and Scott Parker. Moyes has declared his interest in Davis, and several sites state that he will turn his interest to Parker should he fail to get him. "Everton chase Davis"
June 28th: Franny Jeffers wants to return, but it's unlikely that Moyes will want him.
June 25th: Steve McManaman....again. The BBC site has churned out the old story about the Blues and Man City chasing McManaman, with the angle this time being that Beckham's arrival may push him towards the airport. "Premier Duo eye McManaman"
June 25th: Li Tie. From an offical source this time. He tells www.evertonfc.com the latest about transfer proceedings..."Li Tie Confident"
June 18th: Fitz Hall. Ananova claim that Moyes has bid £1,000,000 for Oldham's 22 year-old centre-back. "Everton in £1 million bid for Hall" (Hall's signed for Southampton.)
June 18th: Colin Healy. After months of speculation Healy's agent has encouraged any interested parties to get their act together and make their move. Other clubs reportedly interested are Villa and Sunderland.
June 18th: Gavin McCann. Moyes is apparently ready to bid £500,000 for the former Blue. Everton do have a sell on clause for McCann so that would help any bidding.
June 17th: Zura Khizanishvili. Teamtalk claims that the Georgian international, who was with Dundee last season, is interesting the Blues. "Khizanishvili in no hurry" (Khizanishvili has gone to Rangers)
June 16th: Peter Clarke: Various sites have reported the bid from Northampton Town for Clarke. The Cobblers have already splashed out on Paul Reid from Rangers, and are bidding for Luke Beckett so may be reluctant to go higher than their £200,000 bid. Blackpool, where Clarke spent a spell last season, may also start sniffing around.
More Everton FC headlines
Everton FC latest threads
Everton FC Poll