Dixie Dean Quotes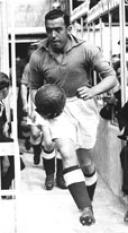 The Greatest Ever
By Chris
July 28 2003
The following are quotes by and about Dixie Dean, the greatest centre forward ever. His achievements are commemorated by a statue at the Park End of Goodison, the end where Dixie scored his 60th goal of the 1927-28 season.
All quotes are from 'Dixie Dean:The Inside Story Of A Football Icon' by John Keith. It's a fantastic book and i'd recommend it to all football fans, regardless of their club. Infact i'd even recommend it to non-Football fans, forget Ali, Dixie really was 'the greatest'. The book is published by Robson Books.......'Dixie Dean: The Inside Story Of A Football Icon'
Dixie Dean on Liverpool:
"There was nothing like quietening that Kop. When you stuck a goal in there it all went quiet, apart from a bit of choice language aimed in your direction! Scoring there was a delight to me. I just used to turn round to the crowd and bow three times to them"
"Everton have always been noted for going out on the pitch to play football. We got called the school of science quite rightly. The other lot, the Reds…. well they were a gang of butchers! …. they should have been working in an abattoir. McNab, McKinlay, the Wadsworths. God bless my soul. They'd kick an old woman"
Dixie Dean on the record:
"People ask me if that 60-goal record will ever be beaten. I think it will. But there's only one man who'll do it. That's that feller who walks on the water. I think he's about the only one."
Dixie Dean to George Best on escalating players' earnings:
"When i was playing i couldn't afford a pair of boots never mind boutiques"
Bill Shankly on Dixie Dean:
"Dixie was the greatest centre forward there will ever be. His record of goalscoring is the most amazing thing under the sun. He belongs in the company of the supremely great… like Beethoven, Shakespeare and Rembrandt."
Alex Young on Dixie Dean:
"Dixie was unique. A legend. An icon. The superlatives rain upon him and rightly so because his feats still seem unbelievable. I feel privileged and honoured to be one of the players to have pulled on that Everton No.9 jersey and followed in the footsteps of a football giant."
More Everton FC headlines
Everton FC latest threads
Everton FC Poll