And if You Know Your History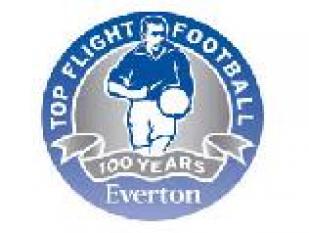 100 Years
By Chris Kirwan
June 17 2003
The 2002-2003 season saw the Blues become the first club to achieve the milestone of 100 years in the top flight. Everton was one of the 12 founder members of the Football League in 1888, and has spent only four seasons out of the top flight.
The club has planned a wide array of celebrations to commemorate the achievement.
These began against Tottenham on the first day of the season, with a "parade of champions" onto the Goodison Park pitch; the likes of Alex Young, Brian Labone, Dave Watson, and Joe Parkinson amongst many others returned to the Goodison turf prior to the game. A plane also towed a huge 300ft banner around and above all routes leading to Goodison Park. A certain Mr B. Kenwright no doubt had plenty to do with such ideas!


Everton were also been given permission to wear an anniversary logo on their shirts featuring Dixie Dean. And throughout the season Everton legends, such as Dave Watson, Neville Southall, Kevin Ratcliffe, and Trevor Steven came onto the pitch to accept both a commemorative gift from the club, and the applause from the fans.
The Chairman, Sir Philip Carter, told www.evertonfc.tv at the start of the season: " I am very honoured and proud to be the chairman of the Everton Football Club at this key year in our long history. This achievement is testimony to the club's stature in the game and is another notable 'first' for Everton. I sincerely hope that our loyal fans enjoy the coming season and the many activities we have planned for them under our Anniversary campaign."
It was fantastic that the Blues made such strides in the prestigious season, and did the history of Everton proud. Evertonians are quite righly pround of their history, and David Moyes and his team showed enough promise in 2002-2003 to hint that the club is back on the rise.
More Everton FC headlines
Everton FC latest threads
Everton FC Poll