Deeside Merger 'Deferred not Withdrawn'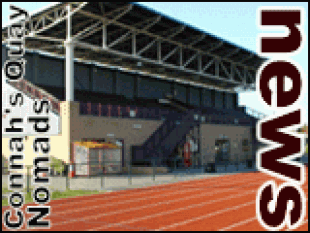 By Robert Stock
April 17 2009
In response to reports that the proposed merger between Flint and Connah's Quay had 'collapsed', Nomads secretary, Trevor Green has insisted this is not the case
Instead, Mr Green has informed www.welsh-premier.org.uk that:
'The Merger was unanimously approved by both clubs at Public Meeting. Howeever, it is vehemently opposed by one individual who has certain clout at the FAW.'
He added:
'Our legal opinion is that he would succeed in gaining an injunction to prevent us going ahead in the time available to complete the merger and gain FAW sanction for the 2009/10 season. The opinion is that we would win any court case though.'
'The Merger is therefore deferred not withdrawn. It certainly has not "collapsed"', as had been claimed in a story on www.welsh-premier.com on Thursday.
So, what does the future hold for both clubs, with the merger seemingly on hold for at least a season?
Green explains that Nomads' supporters fears for the worse will be alleviated in an announcement by the club's owners, GAP Personnel, on Monday:
'A statement will be made available on Monday by Gap, confirming their continued ownership and their generous five figure financial package for 2009/10. Its all steam ahead and the club is not in any danger of not competing at the top level in 2009/10.'
The Nomads' Secretary also questioned local politicians, such as local MP Mark Tami, who had fiercly opposed the merger.
' Perhaps we should supply local poiticians with directions because, even though we sent them complimentary tickets in September and October, none of them have been seen at any of our games so far!'