Christian Edwards Interview - provided by atfc.org.uk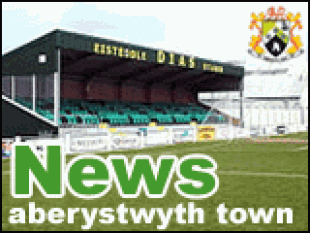 By Thomas White
April 16 2009
Aberystwyth Town defender, Christian Edwards, formerly of Notts Forest and Wales, is interviewd by Aberystwyth Supporter Jordan Payne about his long career in football.
This week, for the last home game of the season we have an interview with Christian Edwards, who was kind enough to answer some questions about his full career as a professional player.
Name: Christian Edwards
D.O.B: 25 November 1975
Place of Birth: Caerphilly
Weight: 11st 9lbs
Height: 6' 2"
Former clubs: Swansea City, Nottingham Forest, Bristol City, Oxford United, Crystal Palace, Tranmere Rovers, Bristol Rovers, Forest Green Rovers.
Representative Honours: Two Wales 'B' Caps, 1 Full Welsh Cap and 14 Wales Under 21 Caps.

Q1 When did you first realise you were interested in football?
I always played football for my cubs team when I was about 7 but I always had a football in my hand where ever I was, and I used to play out side in the street with my friends so yeh I was about 7 when I realised football was for me.

Q2 Were you ever a ball boy like me?
Yeh, I was when Wales bet Belgium 3 – 1 at the old Cardiff Arms park and I was a ball boy that day.

Q3 Who was the first club you played for at school boy level and can you tell us a bit about it?
My school didn't have a football team it had a Rugby team, so I never played at school boy level, but I did play rugby for Wales when I was at school. So my first experience of playing football out of school was for a team called BTM which was a local boys youth club. One of my mates in the team was a guy call called Dai Thomas who went on to play for Swansea and Cardiff City, although he doesn't play any more, so yeah it was a very successful football team.

Q4 What was the first team you played for professionally?
After I played for BTM I got picked by a Swansea scout and they asked me to go down and train on a Tuesday evenings, which I did. I signed the school boy forms when I was 14, then I joined them as an apprentice when I was 16 in 1992.

Q5 Can you tell us what you felt like on your debut for Swansea City?
Well, when you played well for the reserves the first team manager would take you away to a first team game for the experience and you would set the kit out in the changing rooms, and just enjoy the day or the evening which ever it would be.Then, one day I was taken with the team to Stockport and the manager named me in the team. During the actual game itself I just thought I was I the land of the giants playing against all these lads who where a lot bigger than me! We ended up winning the game 1-0, and afterwards I remember feeling really excited and phoning around telling everyone I had just made my debut for Swansea City.

Q6 Would you say you got most of your experience from Swansea City?
I learnt a lot at Swansea City. I made my debut at 18, and I played in the position of a good old fashioned Centre half. The manager at the time was Frank Borrows, a centre half himself, and that gave me a platform for my career and a great knowledge of football.My days at Nottingham Forest were probably where I gained most of my experience, but it was at Swansea where I made the platform for my career.

Q7 You had 112 appearances for Swansea City and scored 4 goals. Can you remember any of them?
My first goal actually came when we were playing Chesterfield at the old veteran ground at Swansea. Kevin Davies, now of Bolton, was playing that day and he scored a hat trick, but I scored the winning goal with a diving header into the top left hand corner and we bet them 4 – 3.Also, I think I scored one off my hip against Bristol Rovers!

Q8 In 1988 you moved to Nottingham Forest, and you played for them 54 times, scoring 3 goals. Who did you play under there?
Dave Bassett signed me, I was 21 – 22, and I played under him for a few months. Then, we got in the premier league, and Dave Bassett left in that summer. Ron Atkinson took over and he was a character, and very much an old school coach, bringing in lots of different ideas. My final manager was David Platt, the former England player, and he brought out the best in me, I played in most games and it proved an enjoyable time. For the 1999-2000 season I was injured, but I did play 12 or 13 games in the premier league the following season and I learnt a lot from this. I played with some good players there, including Martin Hughes, now of Wolves, Richard Gough, Michael Dawson, Andy Johnson and Jermaine Jenas - who used to clean my boots!

Q11 At Swansea City your nickname was 'Swanny'. What was the reason for this?

Well I will correct you there my nickname was not swanny! My captain named me 'big bird', which then became 'birdie'. When I signed for Nottingham Forest from Swansea they called me 'the swan', which became 'swanny', which has stuck with me ever since!

Q12 When you where young was it your ambition to become a defender or were there any other positions you would have liked to play?
When I was young I played centre forward and scored lots of goals, then I got moved up to the right wing, before moving to central midfield, when I got spotted by Swansea. At Swansea I slowly worked my way back to a defender.I wouldn't say I set out to become a defender, but I was just like anybody else looking for the glory as a striker. I enjoy the confrontation at the back and I can't be bothered taking the glory anymore, so I enjoy being a defender.

Q13 When you moved to Nottingham Forest can you confirm how much you transferred for?
I initially moved for £175,000, after 20 games it raised to £275,000 and after 40 games the fee rose again by £500, but I didn't see any of that money, it was just a price tag and it didn't really matter to me anyway. I was just fortunate to move to Forest from Swansea.

Q14 When you played for Wales what grounds did you play at and who was it against?
For my senior cap it was against Switzerland away, a place called Lazarne and I came on as a sub for Chris Coleman with five minutes remaining. Then I was on the bench about 7 or 8 times, including games against Argentina and Ukraine. I managed to swap my shirt with Riquelme and I have given it to the football club.

Q15 How old where you when you first played for Wales and who was the manager at the time?
My first cap was under Bobby Gould when I was 20. My last experience with Wales was with Mark Hughes, as a sub against Argentina.

Q16 I know you received 2 'B' team caps - what is the meaning of B team caps, and who did you play against?

It's for players around the fringe of the first team, to keep them guys interested. I played for the B team up in Cumbernauld, Scotland, and we lost 4-0, and my gaffer is probably behind me laughing!(Brian Coyne came in at this point in the interview)Also, I played against the Republic of Ireland at the Racecourse Ground, Wrexham.

Q17 how did you feel when you ran out in a Wales shirt for the first time,because I know I would be too nervous to play?
I was on the bench for that game and I didn't know I was going to come on, but Chris Coleman went down injured and Bobby Gould said 'get stripped' and I didn't have much time to think about it. I got stripped, touched the ball a few times and that was about it really, it was over before it started so I didn't get a chance to be nervous or anything. I was more nervous sitting on the bench at the start, but as the game continued I calmed down.I achieved a boyhood dream, because everyone wants to play for his country and I was able to do this.

Q18 Are you still in touch with any of your team mates?
Andy Johnson is a very close friend of mine as we were at Nottingham together, and we both played for Wales. We speak regularly on the phone, at least once a week. Another friend of mine, Andy Barrett, currently plays at Southend. I'm currently back home living in Cardiff so I don't get to see them so often and I don't see other players, but I do get to see my friends and family at home now.

Q19 When you were playing for Wales how strict were the managers about diets and training?
Training was very strict. We trained 3 times a day when we were in camp and it wouldn't be as intense as it led up to the game. There is always a strict diet, obviously there's no chips or anything like that! I'm lucky that I'm one of the thin guys who can eat anything and not put any weight on. The only funny diets was with the under 21 coach Tom Wally, he was Arsenal's youth team coach and he brought Arsene Wenger's methods to our training camp. Our pre match meals were vegetables and yogurt dip, which wasn't very appetising - it was meant to give you energy but it did nothing for me.

Q20 Did you win any cups in your career?
I haven't won a cup. The closest I ever got to a final was with Swansea City, we got to the play off final in 1997 against Northampton Town and we lost in the last minute 1-0.

Q21 Who has been your biggest influence as a manger and a coach?
Manager was Frank Bowen as he influenced me as a pro and was very important in my development, he always told me if I was doing well or if I was doing badly as well. TThe coach at Swansea was like a grandfather figure and he was very encouraging and well respected. A lot of managers at big football clubs helped to influence my career as well, to many to mention here in any great detail.

Q22 You most of have had hundreds of injuries being a defender. Was there any that you thought would end your career?
I was injured for the duration of the 2000-2001 season at Forest and I had four operations on my right knee, which was quite worrying at the time. Luckily enough I did not have to retire, but I have had 8 or 9 operations on this knee. I have had lots of injuries and operations which will probably put me in a wheel chair when I am older.

Q23 What was the biggest ground you have ever played at and what was the biggest crowd?
I've played in all the Premier League grounds. I played in the Millennium Stadium in front of 70,000 people. Also I played at the old Wembley in that play off final and there was 60,000 people there.When I was playing with Forest in the Premier League the home gate was 30,000 and sometimes went up to 60,000. I have been very lucky to play at these grounds and when you look back and are asked questions you really do see how much it means to other people. I have picked up some shirts along the way and some international caps and they mean a lot to me and my family and I shouldn't really say but they are in my dad's loft.

But my children take priority to football now.

Q24 Can you tell me any funny stories that happenned during your career?

One story that comes to mind is when my mate Andy Jonson was at Forest at the time of Ian Wright. He used to sit next to me and Jonson and we got on really well with him. He was petrified by birds so Andy, who lived on a farm, brought a dead Pheasant in one day and left it in the boot of his car. The expression on his face when he found it was brilliant and he chased after us. I was always messing around with people as it's a good way to keep the enjoyment and it's part of the game now. I could tell so many stories but that is the one that sticks out, I could write a book on the stories and you have to be there sometimes.

Q25 Have you got any tips for any youngsters that are out there and want to play professional football?

I am thinking about Jonathan Evans who has played for Wales under 16s and he came from the Aber Academy. In the past, players would come up to me and give me advice and say to enjoy it and make the most of it. And when you're 18 you think that football lasts forever and they would say take anything on board that is said to you.

I'm 34 this year and football comes and goes so quickly. You have asked so many questions about my career tonight, and I realise that I have taken so much for granted. So my advice is don't take things for granted because it can finish at any time.

Jordan: I would like to thank Christian for a brilliant and long interview and I have learned a lot about interviewing because of him and I am very, very grateful for it. Good luck to Christian and don't forget Aber 'till I die Jordan who reguarly folows Aber home and away but also assists on match days has been reguarly interviewing players this season.More can be found from Jordan on the clubs official website www.atfc.org.uk
View a Printer Friendly version of this Story.
Christian Edwards Interview - provided by atfc.org.uk
www.welsh-premier.org.uk (IP Logged)
17/04/2009 00:26
What do you think? You can have your say by posting below.
If you do not already have an account
Click here to Register
.
Sorry, only registered users may post in this forum.