Sign Him Up!! 90% want Cameron offered contract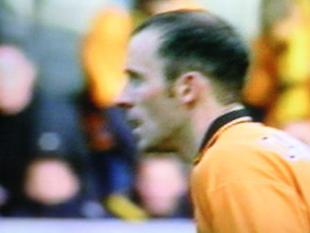 Colin Cameron
By Scott Cooper
April 12 2006
WOLVES Fans have called for Colin Cameron to be offered a new contract. Wolves boss Glenn Hoddle has told Cameron he is surplus to requirements and can leave for free in the summer with Coventry City leading the chase for his signature.
The Wolves Manager had recently told the Scottish International that he did not feature in his plans at Molineux and sent him off on loan to Millwall.
However as Wolves' season deteriorated the pressure mounted on Hoddle, especially as Camerons performances for Millwall were getting plenty of praise. Fans chanted "There's only one Colin Cameron" during the recent pathetic performance away at Plymouth and the following week Colin Cameron was recalled.
The Wolves midfielder then jumped to the starting line up for the game with Coventry at the weekend, despite Hoddle having fit midfielders on the bench and Cameron put in a man of the match performance, scoring the second Wolves goal.
Cameron has become a fans favourite over the years with his 100% effort, goalscoring touch and never-say-die attitude. The fact he won't be offered a new contract by Hoddle has upset many fans with a staggering 90% of fans demanding Hoddle offers the veteran a new contract.
Fans even plan to vote Cameron as the Player of the Year at the home game against Watford on Good Friday. The poll is still open and you can have your say by voting (found on the right or on the home page) or you can discuss the issue on our message board.